Trafford
Hardworking School Crossing Patrol Warden Heather streets ahead!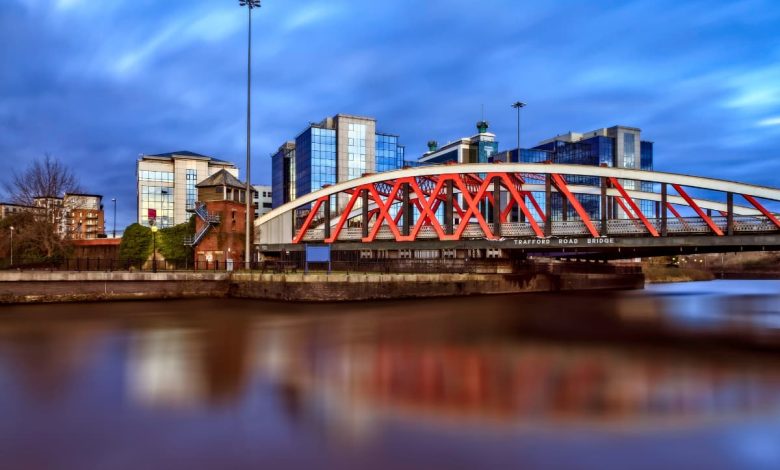 Meet hardworking Heather Morris MBE – Trafford's queen of the school crossing patrol wardens.
The 84-year-old has been helping children cross the road for a mammoth 53 years making her one of the country's longest serving school crossing patrol wardens.
To celebrate, Trafford Council invited grandmother-of-three Heather into the Town Hall where she was presented with a bouquet of flowers by Council Leader, Cllr Tom Ross, and Chief Executive, Sara Todd.
Heather, from Sale, started working as a lollipop lady in 1970, first working outside the then Glebelands Road Primary School in Sale and then when this shut moving a short distance to help children safely across the busy Glebelands Road/Park Road junction covering both Wellfield Infants and Primary Schools and Park Road Primary School in Ashton on Mersey since 1980.
A very familiar face in the area, Heather has helped generations of local children travel to school safely due to her love of the job and has absolutely no plans to retire.
Heather, who was awarded an MBE for her services to education in 2010, said: "I really love this job and am nowhere near considering retirement. The children are lovely and I really enjoy chatting to them as I help them across the road".
"I couldn't think of a better job to be honest – I always have a smile for the children and they always have one for me. It makes me happy to see them every day and I don't care whether it's raining or the sun is shining. The mums and dads come over to talk with me because they remember me when I helped them cross the road – it's wonderful!"
Heather is loved so much that a special mural which reads: 'Stop, Look, Listen' and "right sweethearts!" was erected on a wall at the junction of Park Road and Glebelands Road in her honour after 45 years of her being in the job.
Council Leader, Cllr Tom Ross, said: "It was a pleasure to meet Heather in the Town Hall – what a fabulous lady. Our school crossing patrol wardens do an extremely important job and work hard every day in all weathers to keep our children safe on their way to school".
"I am so pleased that a school crossing patroller from Trafford is making headlines across the country for her 53 years of service. Well done Heather – you are fantastic and we are so proud of you."