Stockport
Foster carers from Stockport win prestigious Fostering Excellence Award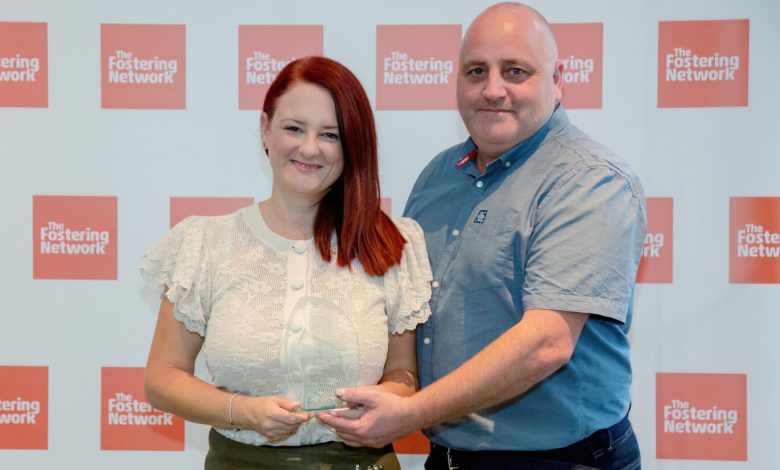 Andy and Helen, who foster for Stockport Council were awarded the Jon and Kathy Broad Award at The Fostering Network's Fostering Excellence Awards, sponsored by The Mortgage Brain, in Birmingham on Tuesday 17 October 2023.
The Jon and Kathy Broad Award celebrates the outstanding work of foster carers to specialise in fostering children and young people with learning disabilities.
Andy and Helen have cared for two siblings since 2016, after they arrived in their home on an emergency basis. Due to the significant additional needs of one of the siblings, both Helen and Andy chose to give up full time work so they could prioritise their care.
One of the siblings had to undergo significant surgery, so Andy and Helen made personal sacrifices to make sure someone was with him at all times to show love, support and reassurance.
They are also fantastic advocates for fostering, regularly taking part in recruitment drives and supporting publicity with Stockport Council.
The family joined The Fostering Network's Mockingbird programme in December 2021 and have since become active and supportive members of the constellation. Mockingbird builds support systems around foster families by bringing them together in groups called 'constellations', each led by a hub home carer.
They are also fantastic advocates for fostering, regularly taking part in recruitment drives and supporting publicity with Stockport Council.
Mockingbird Hub carer, Linda, who nominated the couple said: 'The love, nurture and dedication Helen and Andy have shown has helped the children in their care to grow and thrive. These very special carers deserve to have their dedication and sacrifice acknowledged. They are truly inspirational.'
The annual Fostering Excellence Awards are the UK's most prestigious foster care awards, celebrating outstanding achievements in fostering and recognise those who make exceptional contributions to foster care every day.
The award ceremony took place at Birmingham Repertory Theatre, hosted by broadcaster, TV presenter and inspirational speaker Ashley John Baptiste, who grew up in care himself.
Cllr Wendy Meikle, Stockport's Cabinet Member for Children, Families & Education said:
'Congratulations to Helen and Andy for winning this prestigious Fostering Excellence award. We are delighted they have been recognised for the dedication and commitment they provide in caring for our local Stockport children and young people with additional needs. We are so proud they are part of our fostering community here in Stockport"
In Stockport we welcome and encourage people to come forward to provide fostering homes for our local children and young people and join our fostering community. We hold regular information sessions where people can find out more about the fostering community and how to become a foster carer here in Stockport.
Visit our fostering page for more information or call the fostering recruitment team on 0161 474 3400. Stockport's fostering community are also featured on the Fostering Unfiltered website.