Oldham
Creating an Oldham we can be even more proud of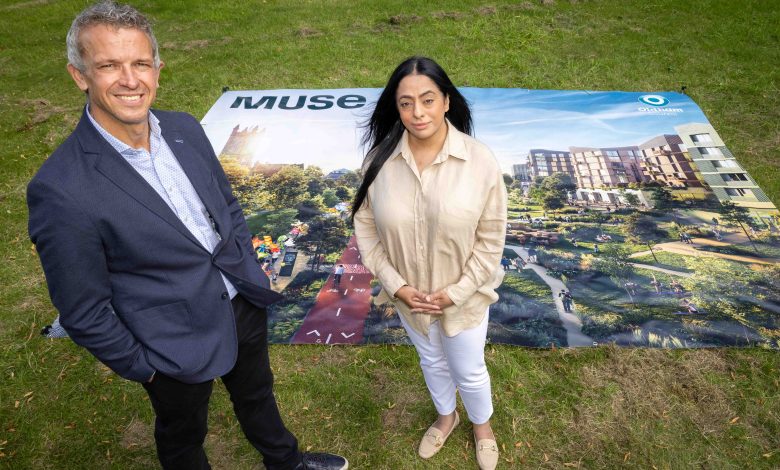 If you've visited Oldham town centre recently, you'll notice there's a lot going on.
We're working hard to breathe new life into places old and new – so there's loads of activity taking place.
We've demolished TJ Hughes and we're getting ready to start putting the steel frame in that will eventually become our brand new Tommyfield Market and events space. If you've not seen it in person, then check out our live stream – we're making great progress.
Round the corner, on High Street, we're carrying on with the work to make the town centre safer, greener and cleaner. It's an extension of what we've already done with Hilton Square – more plants, trees and places to sit to enjoy them. All of it paving the way for a beautiful new town centre park that we'll create once Tommyfield moves into its new home.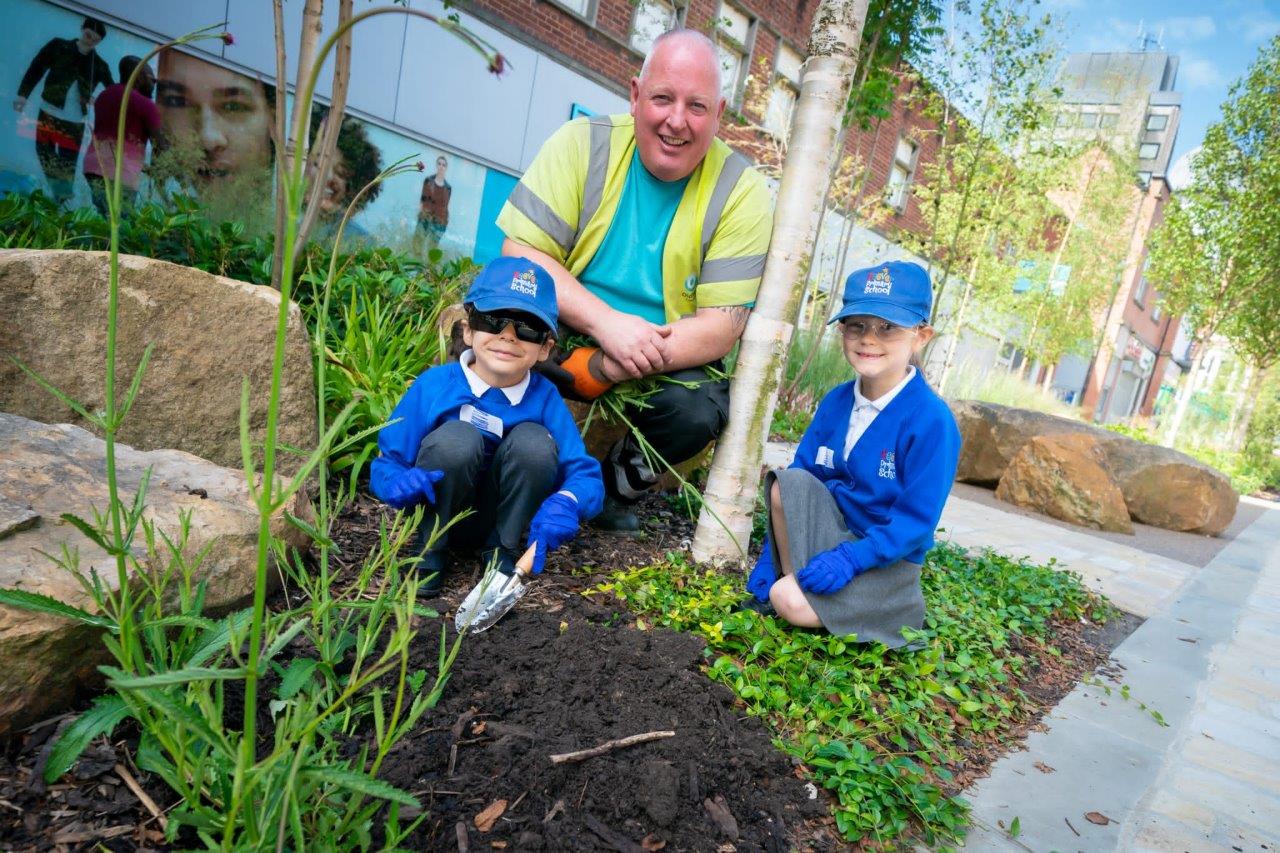 Down near the bus station you'll notice the road is being dug up – not to inconvenience you, I promise – but to connect Oldham with the Bee Network. The network will link cycling and walking routes across Oldham and Greater Manchester so it's easier and safer to get around.
We're also cracking on with revamping the Old Library – a special place that holds so many childhood memories for me. I'm excited to see a new generation of kids coming through the doors.
The building's character is really starting to shine through once again. I especially love the statue of Lady Wrigley, which along with the rest of the stonework has had a much-needed clean up.
You'll spot her on the roof of the Old Library, so next time you're passing look up. Her name is carved into her back in bold letters, and she holds a book in one hand and a laurel wreath in the other – a symbol of victory and triumph. She was named as a snub to the local man, Colonel Thomas Wrigley, who campaigned to stop Oldham building a library and art gallery in the 1880s.
Over 140 years on and despite the rough times we're all facing at the minute with the cost-of-living – we've still got that feisty Oldham spirit in us.
I recently met with Cabinet for a progress update on regeneration. I'm really proud that finally we can see things starting to change. We're getting it done and making a genuine difference to real people's lives with more jobs, more homes and more training and education opportunities for everyone.
And improvements aren't just in the town centre but across the borough with the revamp of Royton Library, new workspace at Broadway Green and our urban farm, Northern Roots, all taking shape.
We're also building much needed homes. It's great that we've beaten our housing target with 403 homes built in Oldham the past year – 51 more than we aimed for. We're working hard to give Oldham more quality homes to ease the housing crisis for residents.
Our partnership with Muse will help us to build 2,000 homes of all types across the town centre. We'll reuse land – like the former Sports Centre and the Civic Centre which will become empty when our staff move into Spindles – and by focusing on brownfield sites, we can protect our open spaces from development as much as possible.
Town centres can no longer survive as places where you just go to shop. We need more footfall at all times of the day and new places to visit. These homes, the park on their doorsteps, a new theatre, new venues to eat and socialise and so much more…all of this will future-proof our town centre and make our borough stronger.
Regenerating Oldham is of course about improving our town, making it a great place to live, work, and get on in life.
But there's another hugely important aspect to what we're doing. We're creating decent well-paid jobs and apprenticeships for people when they need them most. Because of these regeneration projects, 72 people now have new jobs. And that's only the beginning.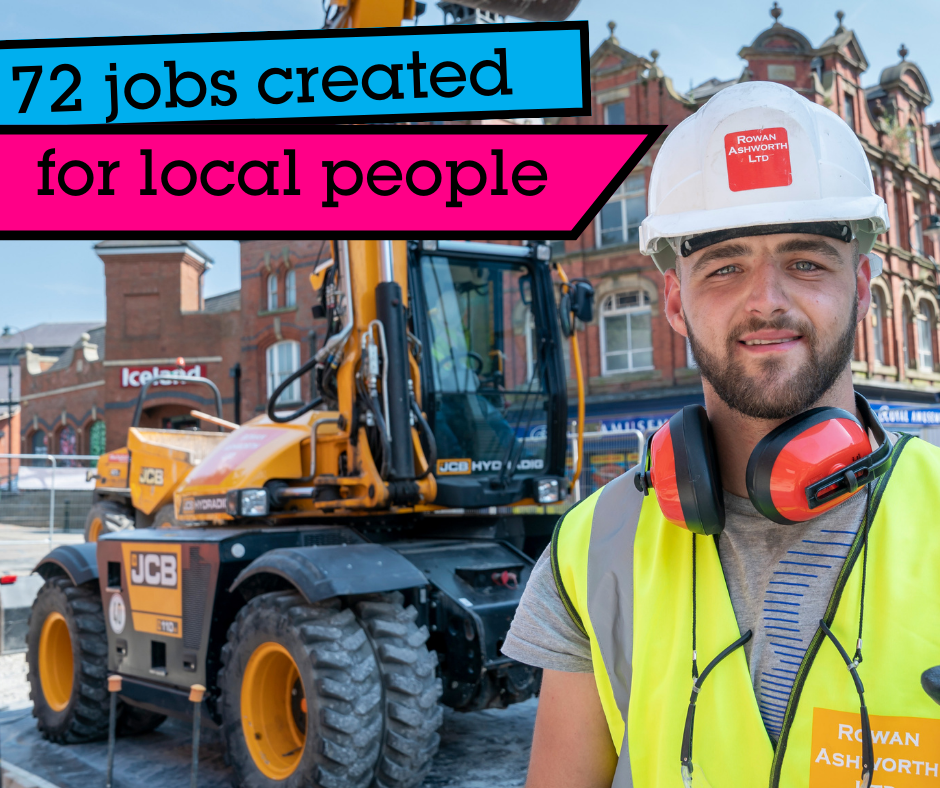 Muse has now launched a partnership with Oldham College to give students experience and career paths in the property industry. Another of the many fantastic incentives taking place with the contractors working across Oldham's regeneration.
We're keeping money in the borough too, with over £24m spent with local suppliers and businesses – everything from plants to pipes.
Our communities are at the heart of everything we do.
We're not just creating a better place, we're creating opportunity – just like Oldham Library and Lady Wrigley did all those years ago. I can't wait to see Oldham triumphant once again.
Find out more about Oldham's transformation at oldham.gov.uk/regen