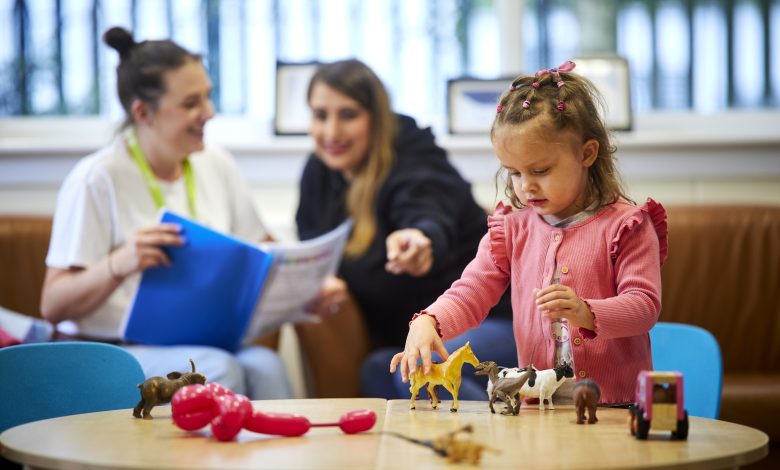 The Crossacres Family Hub is the latest one-stop-shop for families to open in the city and follows the opening over the summer of similar family hubs in Longsight and Cheetham.
The hubs provide a range of advice, support, and services, all targeted at parents, children, and young adults.
With more than 136,000 young people aged 0-19 in Manchester the family hubs aim to make sure they and their families get the support they need, at the time they need it, from birth through to adulthood.
Unlike Sure Start Centres which largely provide support aimed at younger children, the age range of those supported through the hubs is from pre-birth, through the infant and toddler stage, all the way up to age 19 years, or up to 25 for young adults who have special needs.
The hubs have been set up to provide access to a wide range of services to help families navigate all aspects of family life – from health issues such as infant feeding, mental health support, and stopping smoking, to building better relationships, accessing school and education support, as well as providing advice on jobs, skills training, and next steps post-18.
Manchester is one of 14 trailblazer areas nationally chosen earlier this year to receive additional funding from the government's Family Hubs and Start for Life programme, to fast-track delivery of these new services. 
The family hubs are part of a broader five-year action plan called Making Manchester Fairer, which aims to address inequalities in the city that can start early on in life and even affect how long people live for, and their opportunities around work and housing. The plan also includes work around tackling cost of living pressures and poverty, which are also integral to improving health and wellbeing.
Councillor Garry Bridges, Executive Member for Early Years, Children and Young People, Manchester City Council, said: "We're determined to do everything we can to help our families and make sure they can access support easily from birth through to adulthood.  
"Having all this support in one place through a family hub located in the heart of the local community, that families can go to for in-person advice and additional support when they need it, makes perfect sense and is a win-win for Wythenshawe.
"All the evidence shows that strong, supportive families make for more stable communities and happier individuals, which is exactly what we want for this part of the city and for the whole of Manchester."
Crossacres Family Hub is now open at Poundswick Lane, Wythenshawe, M22 9TA.