Rochdale
Unearthing Rochdale's History: Big Dig 2 Reveals Victorian Treasures Behind Town Hal
Over 450 volunteers, trainees, and residents hailing from various corners of the borough have teamed up with archaeologists from the University of Salford for an exciting endeavor known as the Big Dig 2, taking place behind Rochdale Town Hall.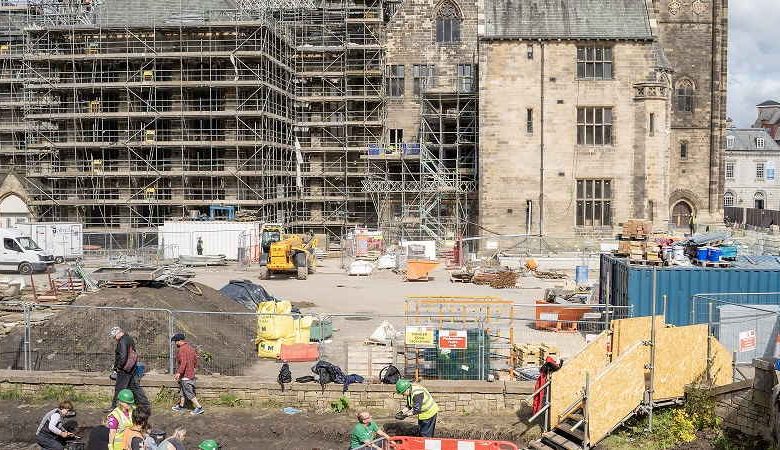 Unveiling a plethora of historical treasures, the archaeological excavation behind Rochdale Town Hall has brought to light the foundations of a Victorian corn mill and a public weighing station. This captivating discovery is a result of the collaborative efforts of more than 450 volunteers, trainees, and borough residents, who have joined forces with archaeologists from the University of Salford to partake in the ongoing Big Dig 2 on the Broadfield Slopes.
With its historical significance deeply intertwined with the evolution of Rochdale town centre, the Slopes and their surroundings have provided a glimpse into the past. The team's diligent work has unveiled the foundations of the 'Charles Kershaw Central Corn Mill,' believed to trace back to the mid-1800s, alongside a public weighing station.
Reflecting on this historical richness, it's noted that "The area around the Broadfield Slopes would have been a hive of activity in the industrial period."
The sequel to the previous Big Dig, aptly named Big Dig 2, follows in the footsteps of its predecessor, which took place in Town Hall Square in 2021.
The dig has been instrumental in the training of five aspiring archaeologists who are now contemplating pursuing careers in this field.
Central to the triumph of this project has been the enthusiastic participation of borough residents spanning generations, along with dedicated volunteers and trainees who have diligently worked on-site each day, uncovering the proud history of their community.
Five local individuals have undergone training as part of a ten-week archaeology course, equipping them with skills that could potentially pave the way for careers in the field. This capable team has acquired enough expertise to essentially manage the Big Dig themselves, with the University of Salford providing support.
This endeavor is part of a series of public activities that complement the broader redevelopment of Rochdale Town Hall. After a multimillion-pound restoration project, funded by the National Lottery Heritage Fund and the council, the town hall is set to reopen its doors soon.
Scheduled to continue until Saturday, 5th August 2023, the Big Dig 2, though fully booked, still offers a chance for last-minute attendance on occasion. Two digging sessions are held each day until the aforementioned date. The first session runs from 9.30 am to 12 noon, followed by the second session from 1 pm to 3.30 pm. Access to the site is through Packer Street, conveniently located near the Flying Horse.
In the grand scheme of things, the future holds a redevelopment plan for the Slopes, with backing from the National Lottery Heritage Fund. Aspirations for this area encompass the restoration and refurbishment of the Grade II-listed Packer Spout fountain, as well as the introduction of new lighting and landscaping elements.