Trafford
Tour of Britain – where to watch world-class cyclists in Altrincham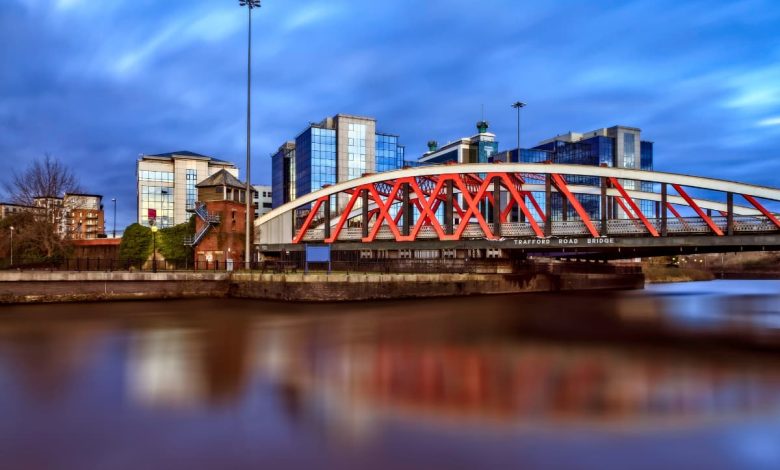 Excitement is mounting for the start of the Tour of Britain, with organisers revealing the best places to watch world-class cyclists begin the race in Altrincham.
The Grand Depart begins in Trafford's award-winning market town on Sunday 3 September and then goes through Hale on the first stage around Greater Manchester.
Altrincham has hosted the start of a stage before, with the event in 2019 proving a huge success. It is hoped that this year's event will be even more exciting and popular as the eyes of the world are focused on Altrincham to see the best teams and riders compete for the title.
Viewing Areas in Kingsway, Stamford Street, Stamford New Road, Railway Street, Ashley Road (Altrincham/Hale) and Victoria Road are recommended as the best places to watch the race. There will also be activities for spectators to engage in, including free bike repairs, bike smoothies and pop-up bike trials.
Cllr Cath Hynes, Trafford Council's Executive Member for Leisure, Arts, Culture and Heritage, said:
"I'm so excited that yet another world class sport is taking place on our doorstep.

"We're expecting people will be out in force to watch the start of the Tour of Britain and they'll be able to see Altrincham at its best. Altrincham is a fantastic mix of specialist shops, independent eateries and cultural delights and will be the perfect host for the Tour of Britain."
To enable the event to take place safely and successfully, there will be several road closures in place around the Town Centre, some of which will be in place from 6pm on Saturday 2 September. This will also lead to parking suspensions in key locations to enable race infrastructure to be set-up.
In certain locations, access will still be enabled for residents. For more information, please visit the Council website or email [email protected]
Parking/Loading and Waiting Suspensions

| | | |
| --- | --- | --- |
| Area | From | To |
| Market Street | 02/09/23 – 20.00 | 03/09/23 – 15.00 |
| High Street | 02/09/23 – 20.00 | 03/09/23 – 15.00 |
| Regent Road (Market Street Junction to A56) | 02/09/23 – 20.00 | 03/09/23 – 12.30 |
| Groby Road (Regent Road Junction to A56) | 02/09/23 – 20.00 | 03/09/23 – 12.30 |
| Stamford New Road | 02/09/23 – 20.00 | 03/09/23 – 12.30 |
| Railway Street | 02/09/23 – 20.00 | 03/09/23 – 12.30 |
| The Causeway | 02/09/23 – 20.00 | 03/09/23 – 13.00 |
| Kingsway | 02/09/23 – 20.00 | 03/09/23 – 12.30 |
| Stamford Street | 02/09/23 – 20.00 | 03/09/23 – 12.30 |
| Victoria Road | 02/09/23 – 20.00 | 03/09/23 – 12.30 |
| Ashley Road (Hale) | 02/09/23 – 20.00 | 03/09/23 – 12.30 |
Road Closures
Road Closed

From

To

Notes

Regent Road (Market Street to A56)

03/09/23 – 5.00

03/09/23 – 12.30

Access to New Street and Norman's Place

Greenwood Street, Shaw's Road, Central Way

As per existing Market Day road closures (from 10.00)

 

Groby Road

03/09/23 – 5.00

03/09/23 – 12.30

 

Market Street (Regent Road Junction to High Street)

03/09/23 – 4.00

03/09/23 – 15.00

 

Market Street (High Street Junction to A56)

03/09/23 – 4.00

03/09/23 – 13.00

 

High Street

03/09/23 – 5.00

03/09/23 – 13.30

Access to/from multi-storey
permitted before 10am

Kingsway

03/09/23 – 11.35

03/09/23 – 12.00

 

A56 (Old Market Place)

03/09/23 – 11.35

03/09/23 – 12.00

 

Victoria Street

03/09/23 – 11.35

03/09/23 – 12.00

 

Stamford Street

03/09/23 – 11.35

03/09/23 – 12.00

 

Stamford New Road

03/09/23 – 11.35

03/09/23 – 12.00

 

Cross Street

03/09/23 – 11.35

03/09/23 – 12.30

 

The Causeway

03/09/23 – 10.00

03/09/23 – 13.00