The University of Manchester
The University of Manchester announces new 'Special Relationship Partnerships' with prestigious North American institutions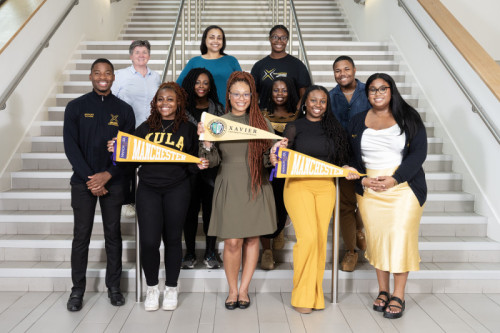 The University of Manchester is today announcing innovative Special Relationship Partnerships with Vassar College, Xavier University, and Spelman College, three distinguished higher education colleges in North America. This landmark collaboration reflects a shared commitment to fostering academic excellence, diversity, and global engagement.
The arrangement will help to enhance The University of Manchester's dedication to international research and teaching with increased growing engagement with US higher education.
Partnerships with these high-ranking Liberal Arts Colleges and Historically black colleges and universities (HBCUs) reflect the University's mutual values of a dedication to research-driven education and strong emphasis on equality, diversity, and inclusion. All four institutions share a vision of creating a collaborative environment that supports academic growth, mutual learning and meaningful connections.
Professor Dame Nancy Rothwell, President and Vice-Chancellor of The University of Manchester said: "Our partnerships with Vassar College, Xavier University, and Spelman College represent a commitment to international collaboration, research excellence, and the creation of a shared teaching and learning environment. These relationships underscore our dedication to promoting academic diversity and fostering global perspectives."
Spelman College President Helene Gayle: "Spelman College is pleased to join with The University of Manchester on the Special Relationship Partnership to collaborate on research and teaching across international communities and cultures. This partnership aligns with our commitment to engage students with many cultures of the world. It also fosters students' global understanding and intercultural competence through international exchange and enhances faculty engagement through research collaboration and sharing of new pedagogical techniques in global learning".
Reynold Verret, President of Xavier University of Louisiana said: "Xavier University of Louisiana appreciates the opportunity to partner with The University of Manchester in undertaking joint education projects that will give Xavierites the opportunity to embark on a post-graduate degree at Manchester. Xavier and The University of Manchester are both renowned universities, united in their commitment to academic diversity, international collaboration, and the betterment of the world. Through this partnership, Xavier's mission to promote a more just and humane society through the education of our students to become leaders of positive change is further elevated and highlighted on the global stage."
President, Elizabeth Bradley, Vassar College said: "This partnership builds upon an existing foundation of longstanding faculty collaborations. By expanding the breadth and depth of our global engagement with the University of Manchester, we will explore new initiatives that affirm our shared values and further enhance global learning opportunities for faculty, students, and alumni alike."
The University of Manchester will facilitate collaborative research and teaching partnerships by encouraging faculty and student exchanges, joint research projects, and Global Classrooms initiatives. These endeavours aim to enrich the educational experience for students on both sides of the Atlantic, fostering a sense of global citizenship and interconnectedness.