Bury
The Heywood Road Sinkhole: A Strange Phenomenon that Unites a Community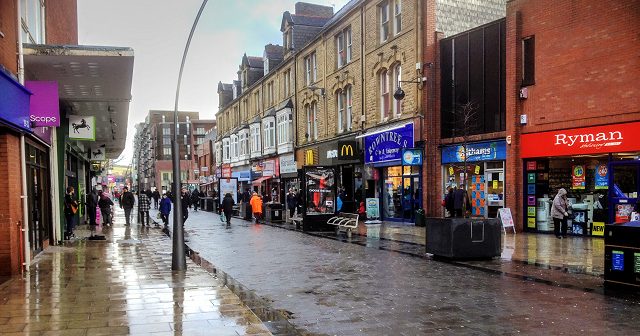 Lennon and McCartney perused a newspaper article about '4,000 holes in Blackburn, Lancashire' and produced one of the most iconic songs in history. Only time will reveal if the Heywood Road sinkhole in Prestwich, Greater Manchester, will have the same impact on popular culture.
However, when it initially emerged in July, it dominated conversations in this area. After gaining coverage in publications such as the M.E.N., Guardian, and Independent, the 20ft wide hole became an unexpected tourist attraction.
Located just up the hill from our house, my children and I, along with two other individuals, went to take a look while walking to school. We also took another peek on our way back home and returned later that night because one of their friends wanted to see it. This made me contemplate how peculiar things can bring people together.
Despite being a fairly busy main road, it remains a friendly street. Nevertheless, I have never conversed with as many neighbors as I did during those few days.
And even two months later, we are still discussing it. This week, local councillor Imran Rizvi raised the issue at a Bury council meeting, expressing 'great concern' among residents about the recurring collapses on Heywood Road.
Council leader Eamonn O'Brien did not make any promises of action, but mentioned that funding had been secured to conduct a survey and determine the cause of the problem. You can read Chris Gee's report on this matter.
If a sinkhole had opened up in Manchester city centre 30 years ago, it would have been challenging to even locate your neighbors, let alone engage in conversations about it. In the early 90s, only 600 people called the city centre their home.
Now, of course, everything has changed, and the population has skyrocketed to a staggering 60,000. This serves as a testament to Manchester's ability to adapt to change and attract investments on a scale that no other city, excluding London, has achieved in recent years.
However, there are some who argue that the rapid development puts the city at risk of losing its essence. In fact, experts contend that Manchester's surge in high-rise buildings could pose a threat to our heritage.
They insist that the region should lead the country in discovering new purposes for historic structures. Moreover, they claim that regarding the high-rise boom as a symbol of success is an 'outdated' approach.
Chief reporter Neal Keeling has examined this issue and spoken with experts from SAVE Britain's Heritage, a campaign group dedicated to preserving endangered historic buildings. They have compiled a new report describing the transformation of the city skyline as 'awe-inspiring'.
And when you examine the figures, it is difficult to disagree. In the past five years alone, 27 towers, reaching up to 65 storeys, have been constructed, with an additional 20 currently under construction. Another 51 skyscrapers are either in the planning stages or have received planning permission.
Just in Castlefield, eight towers have been built in the past five years, and 17 more are either under construction or approved. Manchester now boasts more tall buildings than any other city in the UK, apart from London.
"Tall buildings in appropriate locations can contribute to an exciting city life, but they must be planned thoughtfully. In the wrong places and with poor design, they can cause unnecessary, long-lasting harm to our cities, says SAVE director Henrietta Billings.
One piece of city centre heritage that has already been lost is the Smith's Arms in Ancoats, as explained by Lee Grimsditch. Once the oldest pub in Ancoats, it stood on Sherratt Street for almost 250 years before being demolished to make way for housing in 2016.
Previously known as The Blacksmiths Arms and affectionately nicknamed The Hammer by locals, the reason behind the nickname became clear in 1980 when workmen uncovered a mural of a blacksmith at his anvil, signed by H Thistleton.
The landlord at the time, Tommy Whelan, remarked, The pub is well over 100 years old and has always been known as 'The Hammer' – now we know why. We can't be sure how long the painting has been there, but it's obviously very old. It was covered by four layers of paper, and customers who have been coming here for 40 years saw it for the first time when the decorators stripped the wall.
You can read the entire story here.