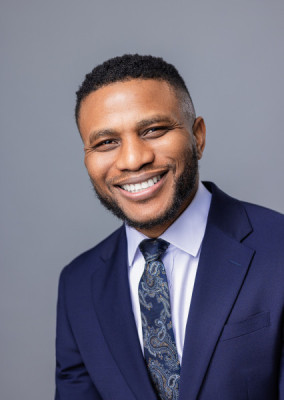 The Eve Appeal, together with North West Cancer Research, will be awarding a three-year Fellowship to Dr Kelechi Njoku, from The University of Manchester, to develop a simpler and kinder test for detecting womb cancer.
We know that to realise a future where gynae cancers are diseases of the past, we need to invest in the next generation of researchers and support them in becoming leaders in the field.
The Eve appeal has been working with North West Cancer Research, an independent charity committed to improving outcomes of people with cancer in their region. They will be funding Dr Kelechi Njoku, a senior clinical oncology specialty registrar and academic clinical lecturer from the University of Manchester, to develop a new, kinder, test to diagnose womb cancer. We will be funding Dr Njoku's work with up to £120,000 each year for the next three years.
Professor Ian Jacobs, Chair of The Eve Appeal's Research Advisory Committee thinks this new research programme has the potential to benefit many women, he says: "Kelechi is a talented clinical specialist working at a leading centre in gynaecological cancer. His research plans address an important issue – the application of powerful research technologies to achieve rapid, accurate and safe diagnosis of cancer of the womb."
Womb cancer is the most common type of gynaecological cancer and the fourth most common cancer in women, and it is on the rise. Currently in the UK, when someone has the 'red flag' symptom of womb cancer, abnormal bleeding, they are faced with a series of uncomfortable and invasive tests. These include transvaginal ultrasounds (where a scanner probe is inserted into the vagina to visualise the inside of the womb), hysteroscopy (where a thin camera is put into the womb through the vagina and cervix to see inside the womb), and biopsies. But, Dr Njoku and his team have found that they can use proteins in vaginal fluid to test for womb cancer- without any invasive techniques or discomfort- using a small device that is put into the vagina.
Dr Kelechi believes this Fellowship represents a significant step forward in the collective efforts to improving outcomes for women affected by womb cancer, he says: "I have been working on developing simple, non-invasive and accurate tests for the early detection of womb cancer over the past few years and I am delighted to receive this funding from The Eve Appeal and the Northwest Cancer Research to continue the work". His research found that when someone has womb cancer, cancer cells can be found in the vagina. They have been working on using the proteins in the vaginal fluid (an area of research called proteomics), to detect certain proteins that are signs of womb cancer. So far in their studies this has worked really well, especially in postmenopausal women, detecting 95% of cancers!
Now their plan, with thanks to the Fellowship funding, is to really put this technology to the test and try it on 500 women who are either known to have womb cancer or are at a high risk of developing it. They want to find out from these women whether the test works as well as they hope, how the women find the test and if it will be cost effective to the NHS to use instead of the current methods.
Eve CEO, Athena Lamnisos, is delighted by Dr Njoku joining Team Eve as a research Fellow, especially as womb cancer research is underfunded in the UK, she says: "with so little funding focused in this area, it is increasingly difficult for committed researchers to pursue their work; we know that this fellowship scheme has the potential to support the research workforce necessary to drive transformational change in gynae cancers. Dr Njoku is an exceptional candidate, and he will join a long line of early career researchers that The Eve Appeal have supported, who have gone on to make a world-wide impact in gynae cancer research."
North West Cancer Research CEO, Alastair Richards, added: "We are delighted to be working in partnership with The Eve Appeal to jointly fund their first Fellowship. Gynaecological cancer remains a significant issue for the North West as well as the rest of the country and we hope that Kelechi's work will be an important step forward in our knowledge of the diagnosis of womb cancer."
As the Chair of the Research Committee who confirmed Dr Njoku selection, Professor Ian Jacobs says: "Through a rigorous and competitive selection process Dr Njoku emerged as an ideal recipient of The Eve Appeal Fellowship. The Eve Appeal has a wonderful track record of supporting emerging talented researchers and Kelechi's Fellowship award continues that trajectory."
We had many really strong applications and hope to see more fantastic researchers joining Dr Njoku as Eve Fellows in the future. Athena comments: "With such a strong pool of applicants, we know that there's an exciting range of research that requires support and driving forward. Eve and North West Cancer Research Fellowships will provide a step-change in transformative research in these areas and achieve our shared vision of a future where the five gynaecological cancers are either prevented or diagnosed at the earliest stage."