Airport
Superintendent Helen Caldbeck takes control of GMP's Manchester Airport division
Greater Manchester Police has appointed a new commander for Manchester Airport.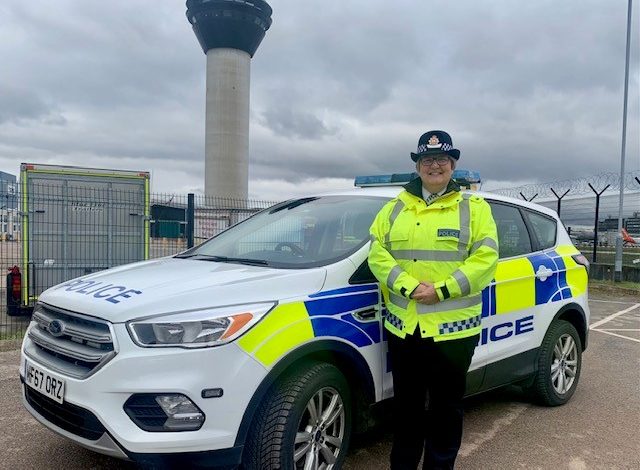 Superintendent Helen Caldbeck is the first female commander overseeing the airport and the most senior female Special Operations officer.
She is also a Tactical Firearms Commander and along with Chief Inspector Gayle Brister, makes up an all-female management team at the airport.
Supt Caldbeck said: "The airport is like its own mini police force, GMP's '11th district'. We have neighbourhood officers, response teams, an intelligence unit, planners, our own CID and, uniquely at GMP, armed and unarmed officers.
"GMP officers are out on patrol all the time, on foot or in armed response vehicles, to make sure we always have a visible presence.
"The armed officers will also pick up 'normal' policing jobs while they are on patrol.
"Our main aim is to keep people safe, including people travelling through and the 25,000 people working at the airport.
"There are a large number of businesses in and around the airport, including shops and hotels, and we are right on the edge of a major traffic network.
"We are currently setting out the priorities for the next 12 months and they include strengthening our relationships with the Manchester Airports Group, solving issues around the airport including vehicle crime, improving our response to incidents and having more visible policing."
Helen Caldbeck 1.jpg
Superintendent Helen Caldbeck on patrol at Manchester Airport
Supt Caldbeck has been with GMP for almost 27 years, spending most of the majority of her time in the City of Manchester district but also as a Superintendent at Trafford and three years overseeing significant change and recruitment at the Force Contact Centre.
She added: "As well as inside the terminal buildings and the roads around the airport, we are also responsible for policing 'airside', beyond Passport Control.
"We will make arrests for not only GMP but also other forces and agencies, and regularly get alerts about somebody who is wanted and trying to leave the country.
"If there is an incident inside a plane then the pilot will grade it from one to four with four being the most serious.
"A grade four inside, someone being aggressive on board or trying to get into the cockpit, will be communicated to GMP by National Air Traffic Services and officers will be waiting to meet the aircraft.
"Our greatest risk is the airport itself and we have to be prepared for many different major incidents, including hijack, a plane crash and terrorist incidents.
"Preparation and planning are key to keeping everyone safe should we have a major incident."