The University of Manchester
Stunning Images of Ring Nebula Captured by Manchester Astronomer on James Webb Space Telescope
Manchester Astronomer Captures Exquisite Images of Ring Nebula Using James Webb Space Telescope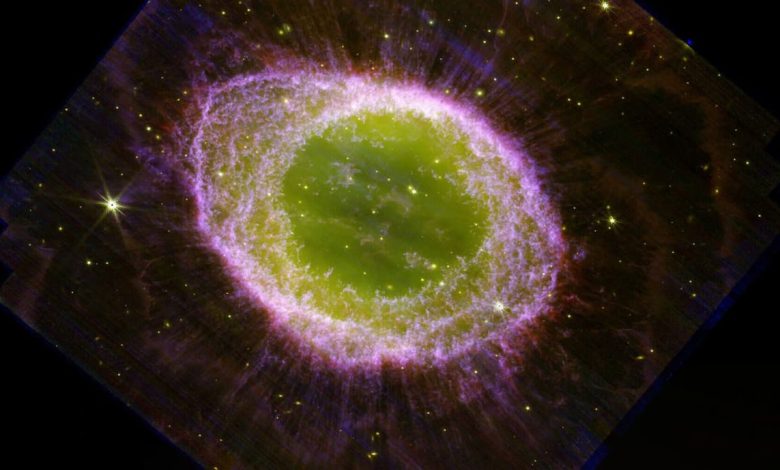 The iconic Ring Nebula, also known as Messier 57, has been captured in stunning new images by NASA's James Webb Space Telescope (JWST). An international team of astronomers, led by Professor Mike Barlow from UCL, UK, and Dr. Nick Cox from ACRI-ST, France, along with Professor Albert Zijlstra from The University of Manchester, released these breathtaking images today, revealing the nebula's intricate and ethereal beauty in unparalleled detail. The public and scientists alike can now marvel at this celestial wonder like never before.
For sky enthusiasts, the Ring Nebula is a familiar sight, visible throughout the summer in the constellation Lyra. A small telescope can already reveal its donut-like structure of glowing gas, which earned it the name "Ring Nebula."
This nebula is classified as a planetary nebula, representing the colorful remnants of dying stars that have shed much of their mass towards the end of their lives. Its unique structure and vibrant hues have long captivated human imagination, and the JWST's latest images provide an unprecedented opportunity to explore and comprehend the intricate processes that crafted this cosmic masterpiece.
The mesmerizing features of the Ring Nebula bear witness to the cycle of stellar life. Located approximately 2,600 light-years away from Earth, it was born from a dying star that expelled its outer layers into space. The true marvel lies in the variety of shapes and patterns exhibited by these nebulae, often presenting delicate glowing rings, expanding bubbles, or intricate wispy clouds. These patterns result from the intricate interplay of various physical processes that are still not entirely understood. The layers of the nebula are now illuminated by the light emanating from the hot central star.
Similar to fireworks, different chemical elements within the nebula emit light in specific colors, contributing to the creation of exquisite and vibrant celestial objects. Furthermore, this provides astronomers with a unique opportunity to study the chemical evolution of these objects in intricate detail.