Stockport
Stockport marks World Mental Health Day 2023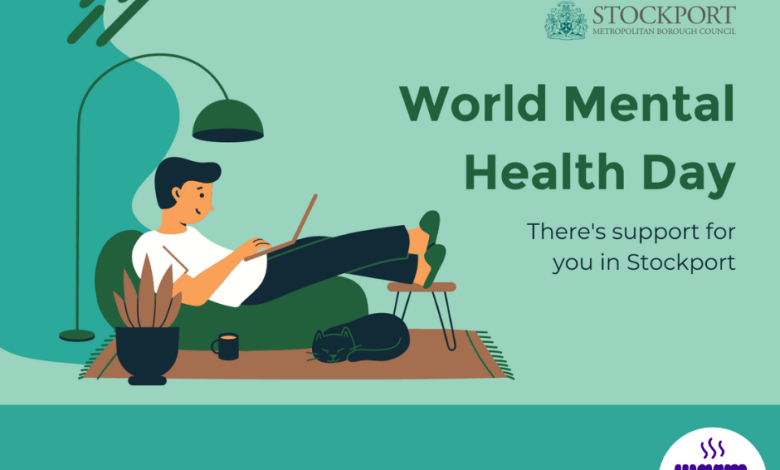 It's the end of the Greater Manchester Month of Hope, which began on Suicide Prevention Day (Sunday 10th September). Looking after each other and our mental health also links well with our One Stockport Warm and Well initiative this winter, as physical and mental, as well as social health and wellbeing go hand-in-hand.
This year, groups and organisations in Stockport are offering some wonderful events for Stockport people on and around 10th October:
Celebrate the day at Start Point Coffee Shop in Woodley, with their 'experience through experience' evening, which takes place on 10th October from 6.30pm – 8.30pm. Meet local services, hear from guest speakers and enjoy craft activities from Make, Build, Grow. Places are limited so please text or call Chloe on 07874 040 782 to book a space.

The Pure Innovations Nurture Group, which runs in Edgeley, will be painting pebbles with quotes and affirmations. Underneath each pebble will be details of organisations residents can contact for mental health support. The pebbles will be distributed across Edgeley. Look out for the Pure Innovations team who will be out and about distributing '5 Ways to Feel Good' resources to local people.

On World Mental Health Day, Beacon Counselling will be in Merseyway to promote services that provide support to adults, children and young people across Stockport, and raise awareness of mental health and wellbeing.

Arts for Recovery in the Community (Arc) do some amazing work alongside residents to allow them to explore their emotions through the medium of art. To coincide with World Mental Health Day, Arc are running the Stockport Art and Health Week, which runs from 9th – 15th October. Find out what's on here.

On Monday 9th October, you can come along to a free showcase event to find out more about local community groups and organisations who offer opportunities to improve wellbeing through creativity. Get a free ticket via Eventbrite.

Then, on World Mental Health Day itself, Arc are running a free and informal event for young people aged 11+ and/or their parents and carers to find out about the services are available in Stockport. Come along, be inspired by some art and enjoy free refreshments and creative activities. Book a ticket on Eventbrite, or just drop in from 4pm – 7pm at the Hatworks (Wellington Mill, SK3 0EU).
Stockport is fortunate with so many different organisations and services accessible for support. Anyone struggling with their mental health, no matter how big or small the issue, should know that there is a lot of support available locally. The Healthy Stockport website is a good place to find local support, including support in a crisis. There is also a dedicated section for help for children and young people up to the age of 25.
Also on the Healthy Stockport website, you can find out about the '5 Ways to Feel Good' – five easy ways to help you boost your mood and wellbeing in daily life.
Councillor Keith Holloway, Cabinet Member for Health and Adult Social Care, commented: "Looking after yourself and each other is really important, and we want to make sure everyone in Stockport is living a happy and healthy life. This World Mental Health Day, take a moment to check in with yourself and your loved ones about how you and they are feeling. There is absolutely no shame in asking for support, and we are lucky enough to have a wealth of fantastic community organisations who can help you if you are struggling. You don't need to do it alone: I would encourage anyone to talk to someone, whether that be someone you know or a trusted organisation, no matter how small the issue might be."