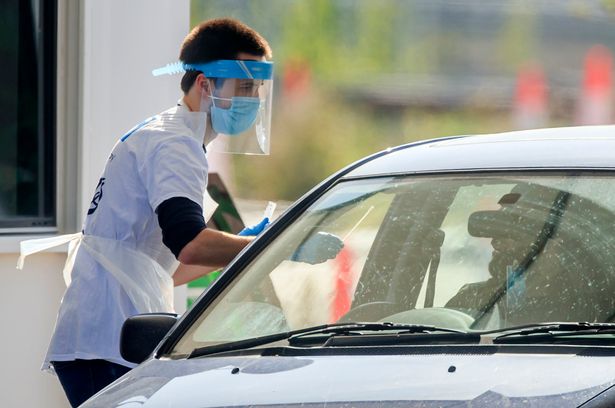 A new phase of the NHS Covid vaccination programme has started this week with the announcement that certain people will be invited for a spring booster.
This has been done following advice from the Joint Committee on Vaccination and Immunisation, that a booster would be beneficial for those most vulnerable to the harms of covid infection, because immunity derived from vaccination declines over time and many of the oldest adults received their most recent vaccine dose in September or October 2021.
Eligible cohorts include residents of older adult care homes, people who are 75 and over and those who are immunosuppressed aged 12 and over, because these individuals are at much higher risk of severe coronavirus (COVID-19).
Eligible adults will be offered either the Pfizer or Moderna vaccine, with any eligible people aged between 12 and 18 getting offered the Pfizer vaccine.
You will be contacted by the NHS when it is your turn to be vaccinated.
You can get your booster in three ways:
At your GP surgery, if your practice invites you. GPs in Brinnington, Bramhall, Cheadle Hulme, Hazel Grove, High Lane, Marple and Reddish are planning to invite all their eligible patients.
At a local vaccination centre run by a pharmacy. Book your appointment via the National Booking Service or by calling 119. The appointment dates you'll be offered start from 3 months (91 days) after your previous dose, but booking an appointment around 6 months after your previous dose is preferable to get maximum protection from a spring booster
At a walk-in vaccination clinic near you – no appointment needed:
One Stockport Hub, Merseyway, SK1 1RA – Every Wednesday to Saturday from 6 April (excluding Good Friday) and thoughout the month: 9.30am to 5pm weekdays and 9.30 to 3.30pm Saturdays
Salvation Army Citadel, Cheadle Heath, SK3 0JE – Monday 4 April, 9.30am to 4.30pm
Underhill Community Centre, Romiley, SK6 4BL – Tuesday 5 April, 9.30am to 4.30pm
St John the Baptist, Heaton Mersey, SK4 3BR – Wednesday 6 April, 9.30am to 4.30pm
Adswood Community Centre, SK3 8PW – Thursday 7 April, 9:30am to 4:30pm
Kimberley Street Community Centre, Shaw Heath, SK3 8EB – Monday 11 April, 9.30am to 4.30pm
Additional walk-in clinics will be announced soon.
Anyone aged 12 or over who hasn't already had their first dose, second dose or first booster is very welcome to get these at local vaccination centres or walk in clinics as listed above too.
In addition, children aged between 5 and 11 are also invited to get their first Covid vaccine from April and further details about this offer will be communicated soon.
Rates in Stockport are still rising, and cases are currently at 765.4* per 100,000 population or around 299 people per day. This rise is likely to be an underestimate in cases as people are testing less frequently. See the latest published data online.
Until next Thursday, 31 March, free Lateral Flow Device and PCR testing for the public are still available. LFD tests can be ordered online, or picked up at many local libraries, Stockport pharmacies and at Fred Perry House. From 1 April, there will be some ongoing free testing for a small number of at-risk groups, which the government will outline.
So, with such high case rates it is clear the pandemic is far from over and we still need to do our best to help keep the most vulnerable safe and the best way you can do this is by getting vaccinated and keeping up with basic methods to stem the transmission.
The ways we would recommend that you adapt your behaviour to reduce the risk of catching and passing on COVID-19 are:
• Getting vaccinated
• Letting fresh air in if meeting indoors, or meeting outside
• Wearing a face covering in crowded and enclosed spaces, especially where coming into contact with people they do not usually meet and when rates of transmission are high
• Trying to stay at home if unwell
• Taking a test if displaying COVID-19 symptoms, and staying at home and avoiding contact with other people if testing positive
• Washing hands and following advice to "Catch it, Bin it, Kill it".
The guidance on what you can do to keep yourself and others safe outlines these measures well.
Remember if you do test positive for Covid, the best advice to help stem the spread is that you should still self-isolate for five days and beyond, until you have received two negative tests on consecutive days.
It is important to continue to look after your own wellbeing, not just physically, but also mentally and socially, and to look out for each other. The well-known 5 Ways to Wellbeing provide good pointers to help maintain our wellbeing in a balanced way. If you want to explore local offers including available support, please visit Healthy Stockport or our emotional wellbeing and mental health support pages; feel free to share these resources with others in your networks.
Our vaccination programme in Stockport is still going well and, so far, 87.4% of those aged 18+ and 73.5% of those aged 16 and 17 have received their first dose. Also, 85.2% of those aged 18+ and 56.7% of those aged 16 and 17 have received their second dose. Also, 63.6% of healthy 12–15-year-olds have had a first dose and 39.2% have had their second dose. In addition, 71.5% of the adult population have had a booster dose and 14.7% of those aged 16 and 17.
Anyone not yet fully vaccinated can book their vaccination via the national booking system online, or by calling 119. Full details of places to get a vaccination in Stockport, including many options available without prior booking, are on the CCG website. There is a also a walk-in clinic at Trinity Methodist Church, 351 Bramhall Lane, SK3 8TP, from 8am to 6pm, 7 days a week.
Do also remember that with Easter school holidays starting shortly, if you're lucky enough to be jetting off abroad, remember to make sure you comply with travel rules of your destination by checking the entry requirements for any other countries you wish to visit. You'll find up-to-date information on what you need to do on your return on gov.uk.