Tameside
Schoolchildren Embrace Sustainability for Arts Awards at Canon Burrows School
Pupils at Canon Burrows CofE Primary School in Ashton demonstrated their commitment to sustainability by participating in the Think Green campaign to achieve their 'Keen to be Green' Arts Award. In a creative endeavor, they transformed discarded materials into futuristic robot designs, diverting them from landfills.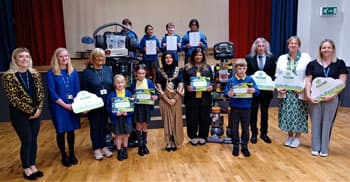 The children's outstanding efforts were recognized in a ceremony where they were presented with certificates by the Mayor of Tameside, Councillor Tafheen Sharif. The event was attended by Councillor Denise Ward, Executive Member for Climate Emergency and Environmental Services, Councillor Sangita Patel, Executive Member for Culture, Heritage, and Digital Inclusivity, as well as ward Councillor Dave Howarth.
Additionally, during the occasion, the Mayor and Councillor Ward had the opportunity to engage with the school's Eco Council and discuss the commendable environmental initiatives undertaken by the school.
Guided by Mark Haig of Gizmobots, the students crafted their robots using objects discovered in car boot sales, skips, and scrapyards. Mark's expertise in engineering and creative skills enabled the transformation of these items into quirky robot sculptures or even practical objects like desk lights and radios, utilizing old electronic equipment.
The Think Green campaign, a part of Tameside Council's Climate Change Strategy, aims to inspire residents and local businesses to actively contribute to a cleaner and greener Tameside. The strategy emphasizes collective responsibility for the borough's environment, with special emphasis on the significant role young people play in promoting eco-friendly habits and advocating for sustainability.
As part of the Council's Cultural Services initiative, Arts Awards are organized in schools to foster creativity, develop artistic skills, and cultivate leadership talents among young individuals. Funding for these endeavors has been secured by the Community Safety team, further encouraging and empowering the youth to make positive contributions to their community.