Stockport
Scan here for support and advice in Stockport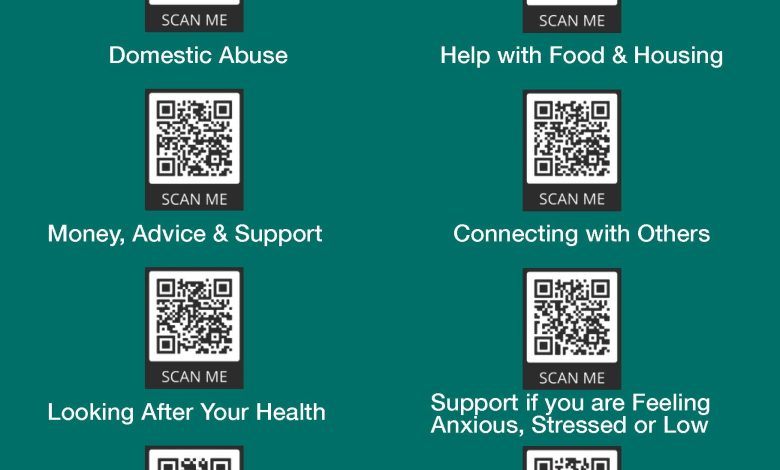 This will help to make it easier and quicker for Stockport residents to find out about a range of advice and support in the borough and to keep warm and well this winter.
Linda Mullins from Stockport Lamplighter Rotary Club said:
"Stockport Lamplighter Rotary Club is a really active group.  We fundraise and provide practical support to help tackle things such as poverty, young people's development and climate change. I heard about a poster campaign using QR codes developed by St Helen's Rotary.  I hadn't seen anything like this before but thought if we could produce something similar for Stockport it would be a great community service.  The poster design is very simple – just a few words and some QR codes.  People use their mobile phone to scan the relevant QR code on the poster and this takes them to information and contact details for the services and charities that can help.
"On behalf of Rotary Clubs in Stockport, I approached Stockport Council with the idea and they were keen to help us develop this initiative.  I've been working with the Council's Public Health team to produce the poster. A Rotary member has done all the work on developing the QR codes and how the service information is presented and the Council has helped us collate the information and print the posters. The beauty of this design is that if any of the service or charity information changes we can just update the information that sits behind the QR code – we don't need to take down and reprint the posters.
"Our volunteers have been taking the posters out across Stockport and we've had a great response from the people we've given them to including dental surgeries, supermarkets and Stockport railway station. We show people how to scan the QR codes and people are often amazed to see the useful information that is revealed and they immediately put the poster on display."
Karen Grimshaw, Avanti West Coast Station Manager at Stockport said:
"We have nothing but admiration for the Stockport Rotary Clubs and One Stockport.  They really are making a difference locally in these challenging times and if the posters at Stockport station help just one person get the support and advice they need we'll be proud to have played our part in championing this cause."
Stockport Council's Cabinet Member for Communities and Housing, Councillor Helen Foster-Grime said:
"We're delighted to have worked with Stockport Rotary Clubs on this poster and thank them for their commitment to finding ways to support our residents.  It's great to see how well the posters are being  received by services and organisations across the borough."
The poster is available in a range of sizes and shows a series of QR codes which link to information and advice if you need help with:
Domestic abuse
Food and housing
Money, advice and support
Connecting with others
Looking after your health
Support if you are feeling anxious, stressed or low.