Salford
Ridge confirm move to 100 Embankment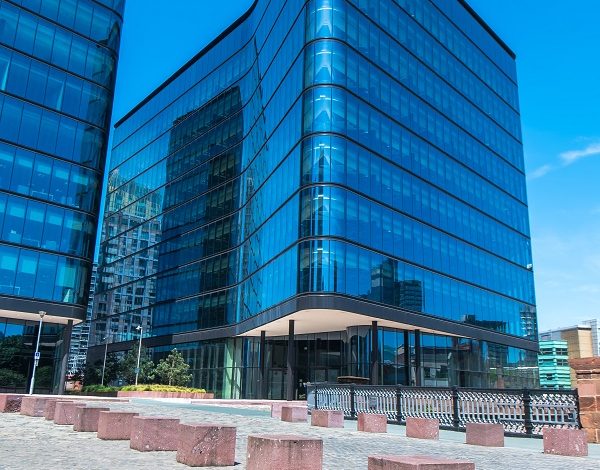 Ridge & Partners LLP to relocate to Salford's prestigious Grade A office development 100 Embankment
Firm will take over 10,000sqft on part of second floor
Move is part of relocation from Belvedere House in Manchester City Centre
Latest tenant agreement at 100 Embankment means only one floor remains vacant in Manchester and Salford's best performing office of 2022
Lettings agreements continue at pace at 100 Embankment as Ridge & Partners LLP become the latest to confirm its move to the prestigious development. The multi-discipline property and construction consultants will make the move across the Irwell to relocate from their current base at Belvedere House in the city centre.
The news of the agreement follows the official launch of the development last month, which saw current guests and invitees from across the sector to experience Salford's flagship office block and celebrate the recent lettings successes.
The firm which specialises in public and private sector, new development, regeneration or refurbishment projects will make 100 Embankment its home from January 2024. The deal will see them taking 10,468 sqft on part of the second floor, on a 10 year lease, with 125 staff being based there.
Other occupants of 100 Embankment are +why, Deloitte and Aecom, so Ridge will be in good company. Three of the tenants; Aecom, Deloitte and Ridge were all consultants on the original build of 100 Embankment and so their moves further highlight the faith they have in the design of the building.
The move by Ridge means that to date only one floor of the nine in the block remains unlet. Only the third floor has space to let, with space totalling 19,852 sqft available which is capable of splitting into two separate suites. This follows a hugely successful drive to confirm lettings over the last 12 months, which saw the development crowned Manchester and Salford's best performing office in 2022 by the Manchester Office Agents' Forum (MOAF).
100 Embankment was developed is a joint partnership between Ask Real Estate, Tristan Capital Partners and Salford City Council. The Ridge deal was confirmed between Salford City Council who were advised by CBRE and Cushman & Wakefield and Ridge who were advised by Mark Worthington at Worthington Owen.
In partnership with Ask Real Estate, the flagship office space has been developed to extremely high standards. The stunning glass exterior and airy ground floor atrium which houses the fantastic mural and artwork by local artist Barney Ibbotson represents the cultural identity of our city.
Its state-of-art infrastructure, facilities and sustainability ethos that runs through the development, continues to see Embankment attract businesses across different sectors. 
Jamie Hills, Development Director, Ask Real Estate said: "Securing this latest letting at 100 Embankment to Ridge & Partners is testament to the quality and design of the building as well as its prominent riverside location and access to great amenities. Ridge joins an occupier line up along other global brands, and with only one floor now remaining, together with our partner, Salford City Council, we are confident that the building will be fully let in the coming months."
Lucy Osborne, Partner at Ridge, said: 'The move to a larger, more modern space, is in keeping with our plans for growth whilst maintaining quality. Our focus is on providing the right environment for our people to enable them to deliver better for our clients. The larger collaboration space for multi-disciplinary working across all of our expertise is ideal for this. It is also lovely to move into a building designed by our local building services team, led by Partner Chris Bradburn.'
---
Press and media enquiries