To Do
Ribeye Steakhouse review, launching on First Street
We reviewed Ribeye Steakhouse, which opened on First Street this week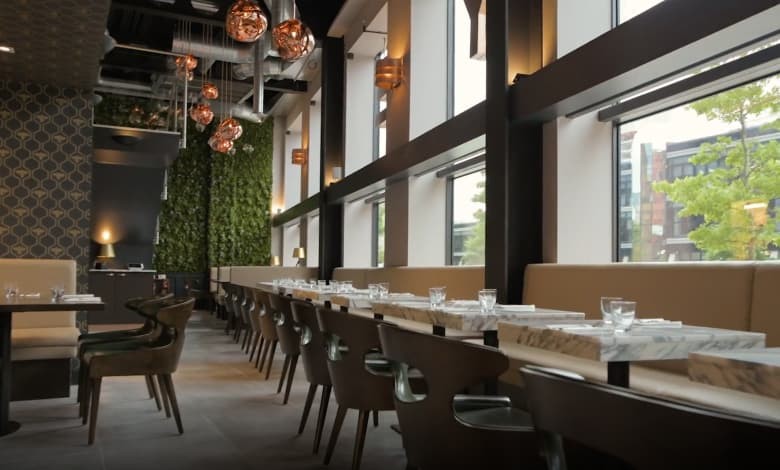 Ribeye Steakhouse, which has just started operating, is starting to accept guests. It is a very impressive place. It features a large open-air steak menu, including large open kitchen, Wagyu beef and special cuts of American steak Creekstone.
Luxury design features include a huge white flower tree and bronze rose bulb chandeliers at the entrance, while a large Arabostca marble bar dominates the restaurant area on the ground floor.
Upstairs is the mezzanine level with more seating, and a private dining area is planned to be developed in the coming months. And on the restaurant's far wall, green leaves dominate to mimic a grassy area. The steaks on the menu are excellent and very delicious.
There is also a special Manchester bee-themed cabin, a special tribute to all the victims of the Manchester Arena bombing tragedy.
Owner Sohail Kaushal said that this restaurant belongs to the people of Manchester and it doesn't matter who you are. It's all about eating here and we've put together a team of very talented people to deliver the best service and the best food. Sohail also praised the warm welcome of other businesses in the thriving First Street business and entertainment district. Head chef Djafar Yousfi, previously of the San Carlo Group, leads a 12 – person kitchen staff: "we use three of the best quality meats – Wagyu, Creekstone and Aberdeen Angus-so we're really excited about it.
So yes, that means the steak is cooked blue or well done though as Djafar and his team will happily welcome you. Wagyu steak is available as a 7 oz fillet for £ 65 or a 9 oz ribeye for £ 60. Creekstone steak, which comes from beef fed on a 100% corn diet, cost £ 10 for a 9oz fillet, up from £ 30 for a 9oz fillet. The venue's Aberdeen Angus steak, from an award-winning Scottish farm, cost £ 23 for 10 oz ribeye or sirloin, and £ 65 for a 32oz Tomahawk steak.
For those not meat-related, there are vegetarian and vegan offerings such as black truffle arancini (£ 9) and marinated cauliflower steak (£13) on the à la carte menu, as well as plenty of options for those with specific dietary requirements.
The halal restaurant will include Manchester's first Dry Bar, with a wide range of cocktails (all from £ 5) that patrons say tastes so good. A Manchester Bee cocktail made from a touch of Peach Lemonade, lime and honey, with fresh fruits and citrus on Ribeye red, of course.
Also, strawberry tiramisu (£7) from the venue's Sicilian pastry chef, daily-changing cheesecake (£7) and peanut profiterole (£8 ),  The 140-cap restaurant will have an outdoor terrace area with seating for up to 40 people, opening until August, which will be an ideal suntrap for catching the Manchester Rays this summer.
Monday, July 1, Ribeye opened for a soft launch for family and friends over the weekend before opening to the public from 17:00 BST. Friday and Saturday from 17:00 to 11: 30.the restaurant will be open seven days a week, initially from Monday to Thursday from 17:00 to 11:00. The restaurant will open on Friday and Saturday from 17:00 to 11:30. They will open for lunch later in July from 12:00 to 15:00.