Bury
Radcliffe to Benefit from New Cycling and Walking Bridge as Leaders Give Green Light
Exciting news emerges as leaders in Greater Manchester give the go-ahead for a funding boost of £2.55m, dedicated to the construction of a brand-new cycling and walking bridge across the River Irwell in Radcliffe.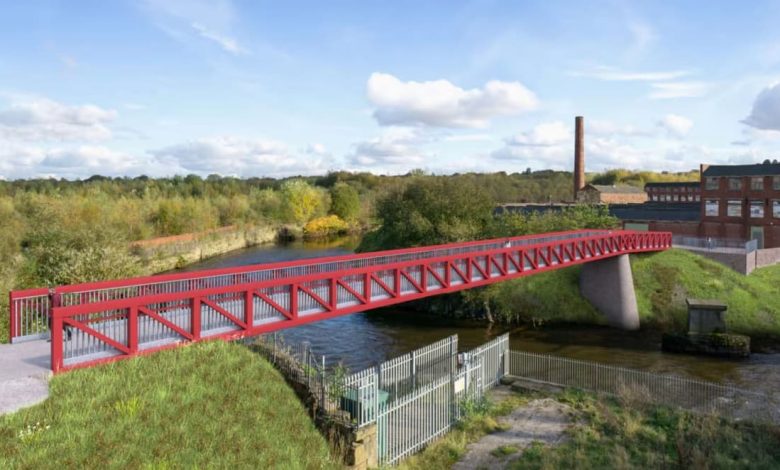 This innovative structure, set to stand adjacent to Rectory Lane, will be a welcome replacement for the old footbridge, which suffered damage during the catastrophic Boxing Day floods in 2015.
With unanimous approval from the Bee Network Committee, the funds required to bring this vision to life have been secured, paving the way for the creation of a crucial cycling and walking connection between Radcliffe Metrolink stop, the bustling town center, and the residential zones situated to the east and south of Radcliffe.
The magnificent steel bridge, measuring an impressive 42 meters in length, is scheduled for completion in September 2024. Notably, it will be positioned at a higher level than its predecessor, thoughtfully designed to safeguard against potential high-water levels in the future.
The newfound route will elegantly link Rectory Lane with Milltown Street, significantly enhancing the commutes of residents traveling from south Radcliffe to West Radcliffe. Moreover, it will streamline journeys for individuals moving from Cross Lane to the library and those traversing from Stand Lane to Close Park.
Anticipation mounts as the promise of improved accessibility and connectivity in Radcliffe takes shape with this exciting project, set to enhance the overall quality of life for local residents and promote sustainable modes of transport in the region.