Oldham
Public Health Workforce Week hopes to inspire more people to start a career in Public Health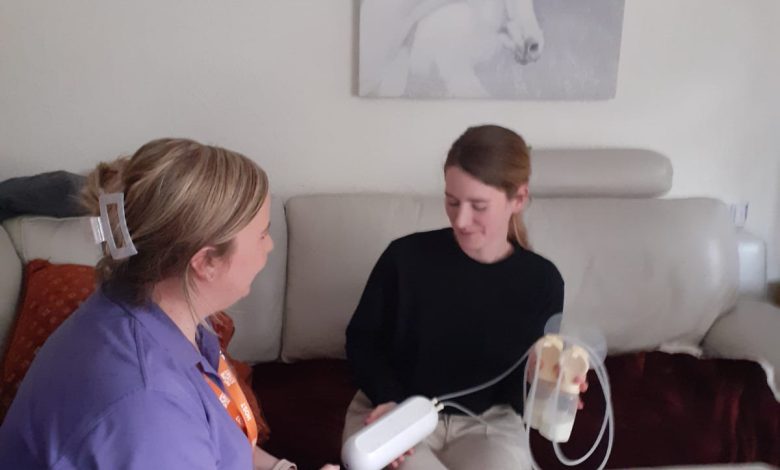 Monday 2 October kicked off Public Health Workforce Week. 
This year, the week is aimed at educating people on what the Public Health workforce do for their community. Oldham's Public Health workforce is spread out over a wide variety of areas. There are Health Protection workers that support care homes, schools and healthcare settings to respond to risks such as scabies Group A Strep, and flu as well as COVID. The teams also tackle important issues such as smoking, gambling, drugs and alcohol, sexual health and mental health. This invaluable work is undertaken by people such as Emma Pounder, who is an Infant Feeding Peer Support worker.
Emma helps parents to make informed choices on how to feed their babies. She said of her work: "My working week is varied. I can be talking to parents at clinics & community awareness events, sharing tips and answering questions about feeding babies, delivering our 'Breastfeeding Basics' online workshop, facilitating a community breastfeeding support group with our health visiting partners, talking to parents over the phone about any feeding concerns they may have or visiting parents in their own home to support them in person.
"Being a parent can be overwhelming and the early weeks of breastfeeding can be challenging. My role is to provide easy to understand and useful feeding information to parents, support them in achieving their feeding goals and to help them to connect with others to create their own social networks and in the process build a close & loving relationship with their baby.
"The most important thing to me is that parents feel listened to and supported in their decision-making."
Councillor Barbara Brownridge, Cabinet Member for Health and Social Care said: "Our Public Health workforce is incredibly committed to improving the health of Oldham residents so I'm glad their work is getting proper recognition. In particular, their work throughout the COVID pandemic, providing reliable advice and support to residents through uncertain times was hugely impressive.
"I would encourage anyone with a passion for health and helping others to consider a career in public health. There are incredibly rewarding roles that make a real difference in people's lives. There's a range of options available including new apprentice roles that offer a career pathway for people wanting to take their first steps into the career.
"Thank you to all of the Public Health workers in Oldham and across the country for everything you do."