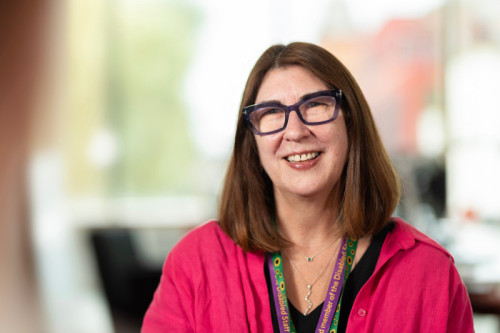 The University of Manchester's Professor Jackie Carter has been named as one of the 100 most influential disabled people in the UK, working to break the stigma around disability to create a more accessible and inclusive world for all. ​​​​​​​
All about creating change, the Disability Power 100 celebrates ambition and achievement, and plays a role in changing society by recognising the strengths and talents of disabled people who are pioneers, changemakers and influencers.
A fifth of the UK's population has a disability or impairment – however, there is very little recognition of successful and influential disabled people. Disabled people are more likely to be unemployed, and the gap is widening – until the public's perception of disability is changed to recognise strong, successful, influential people who are leaders in their field, this gap will continue. According to government figures the disability employment rate has increased by 9.2% over the last decade, from 43.4% in 2013 to 52.6% in 2022.
Since becoming disabled herself in 2017, Jackie has advocated for the voices of disabled people to be heard and their experiences to be better understood. The 'Let's Talk Disability' series of recorded conversations which she has initiated will shine a light on the lived experiences, challenges and strengths of disabled staff and students at The University of Manchester. As EDI Disability Academic Lead, Jackie is using her role to influence the change we need to see, hear and experience to create a more disability-inclusive world.
Jackie is a self-confessed late bloomer. Starting out as a schoolteacher, and then becoming a professor of statistical literacy in her fifties, Jackie has gone on to become a role model in creating inclusive opportunities for her students in her award-winning Data Fellowship programme. She has received multiple accolades for this programme, which is tackling inequalities in the pipeline into careers in data roles.
She is now using this experience and building on it to ensure that The University of Manchester delivers on its ambitious EDI strategy. As a person with invisible disabilities Jackie is determined to create a safe environment for conversations and data to be shared, to demystify what it means to have a disability.
"Not all disabilities are visible – mine aren't," said Jackie. "We need to talk about what it means to be disabled so we can help our non-disabled colleagues to understand our challenges, as well as our significant strengths. We also need to work together to ensure that disabilities become as talked about as other protected characteristics such as age, race and sex."
The finalists were selected by an independent judging panel chaired by Andrew Miller MBE from more than 1,500 public nominations. Full details of this year's finalists can be found on www.disabilitypower100.com.
The top 10 and all-important top spot will be announced on 8 November from The Drum, Wembley. To receive updates please follow Shaw Trust on X, Insta or LinkedIn, or contact [email protected].