Trafford
Planning approval for £250m wellbeing resort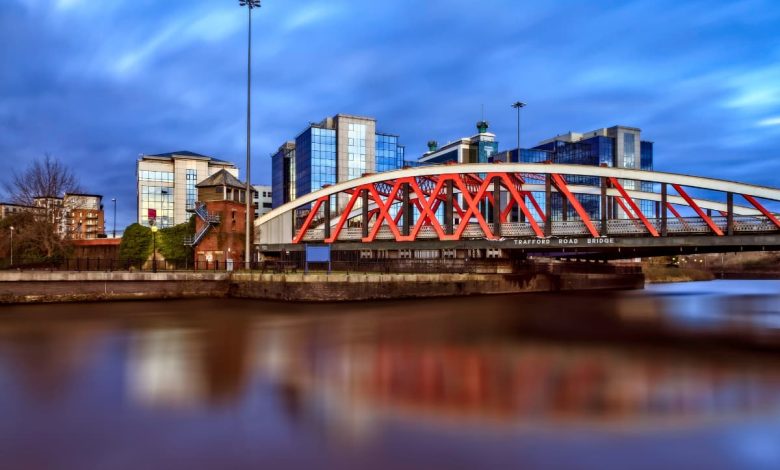 The new design for Therme Manchester has received approval from Trafford Council's planning committee.
This new design features a pavilion-style concept with separate connected structures that are immersed and enveloped in a natural landscape The decision coincides with the appointment of Professor David Russell as the first UK based CEO of Therme UK,  which demonstrates a shift in Therme's focus from design and planning to delivery.
With 30 years of experience in delivering large-scale projects, Professor Russell has been involved in major projects around the world including the London 2012 Summer Olympics, The Rugby World Cup in Japan, and the $8 billion Expo 2020 in Dubai.
Russell takes up the role after a successful 3-year tenure as CEO of the joint venture between Russell Partnership Collection the UK's largest food, nutrition, and technology consultancy and Therme Group.
Russell will be supported by Richard Land, the Chief Development Officer of Therme UK, who has successfully spearheaded the planning process. James Mark, who has been a leading part of Therme UK's senior leadership since the project began, takes up the role of Chief Strategy Officer for Therme UK. His focus is on developing further city-based wellbeing resorts, across the UK.
When asked to comment on the approval of the planning permission, Russell said: "Therme Manchester will be the UK's first city-based Wellbeing Resort. By successfully delivering Therme Manchester we intend to create a new wave of urban wellbeing with attractions that include  botanical gardens, immersive art, urban farms, education activities, fitness programming, and live entertainment, all in addition to our family zones with slides, evidence-based therapies, thermal bathing, swimming pools, warm water lagoons, and multi-sensorial saunas. 
"Our ambition is to make a difference in millions of people's lives through the life of the Resort."
The resort is forecast to contribute over £4.5 billion to the UK economy, according to an independent PwC study, with most of the positive impact in the Greater Manchester area.
James Whittaker, Executive Director – Development at Peel L&P said: "After five years working in partnership with Therme, we are delighted to hear planning permission has been approved for this incredible, high-quality health and wellbeing resort in TraffordCity.
"We're looking forward to working closely with the whole of the Therme team to deliver something truly unique and iconic in the UK, that is not only world leading in the world of health and wellbeing, but it'll also create a significant number of new jobs and have a huge positive economic impact for North West England."
Cllr Tom Ross, Leader of Trafford Council, said: 
"I am very pleased that the planning committee supported this application. This wellbeing resort is a huge £250m leisure development which is the first of its kind in the country and we are delighted it is being built here in Trafford. The resort will attract millions of visitors each year and will add significantly to the local economy during construction and once operational. It will also create more than 1,500 person-years of construction jobs and 600 permanent full-time jobs.

"The development sits a short walk from the latest Metrolink extension and supports several of our key commitments by improving health and wellbeing, providing connectivity for cyclists and pedestrians, creating a new public realm, and regenerating a vacant brownfield site in a sustainable location."
The £250 million construction is set to commence later this year, with an estimated duration of 24 months for completion.