Piccadilly Gardens
Piccadilly Gardens to Undergo Transformation with Appointment of Design Team
An exciting transformation is underway as a design team has been appointed to envision a world-class space centered around Piccadilly Gardens.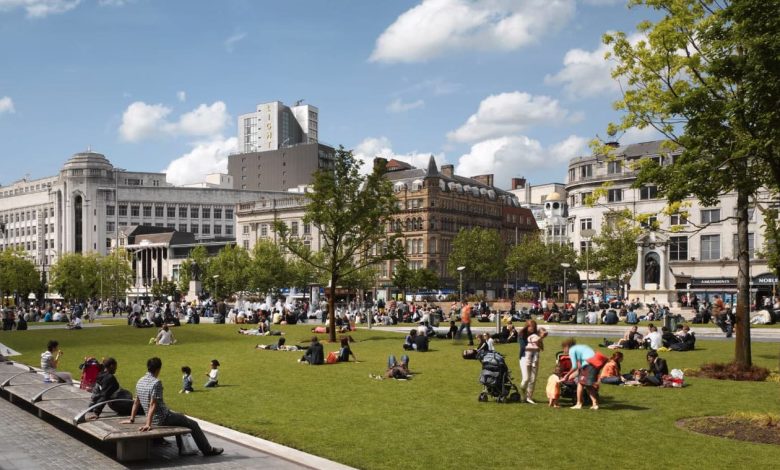 LDA Design, a team chosen from four international candidates in a design competition, will lead the effort to create detailed plans for this prominent city center area. These plans will be instrumental in preparing a comprehensive planning application set to be submitted next year.
Of utmost importance is the involvement of Manchester's residents in this project. Before any plans are finalized, the proposed designs will be made public, and the people of Manchester will have the opportunity to share their valuable opinions and insights.
LDA Design's submission to the competition panel has been commended for aligning seamlessly with the design brief. Notably, their proposal incorporates improved and modernized children's play facilities, as well as enhanced connections to London Road.
Encompassing a vast 10-acre site, the project extends to Mosley Street, Parker Street, the section of Portland Street running alongside Piccadilly Gardens, and the adjacent section of Piccadilly.
Piccadilly Gardens holds a unique status, serving a diverse range of functions. It stands as a major route through the city center, a vital transport interchange, a vibrant space for markets and events, a favored meeting spot, and a green oasis for leisurely pursuits.
The envisioned design aims to establish Piccadilly Gardens as a truly special place, exuding a strong sense of identity that is welcoming and distinctly Mancunian. Its versatility will ensure it caters to all, incorporating spaces where children can play, while being fully accessible.
In recognition of Manchester's desire to maintain a green space in the heart of the city, the design brief emphasizes the importance of planting to encourage biodiversity and enhance air quality, aligning with the broader environmental goals of the Council. Careful consideration will be given to the design to accommodate the tens of thousands of people who traverse the area daily.
Safety is paramount, and the design will be thoughtfully illuminated with clear sightlines, promoting a secure and inviting atmosphere.
Throughout the transformation, the existing listed monuments, statues, tramlines, and infrastructure will be retained, preserving the historical and architectural significance of the site, including the beloved Pavilion structure.