Crime
Operation Vulcan cracking down on criminal activity in Cheetham Hill and Strangeways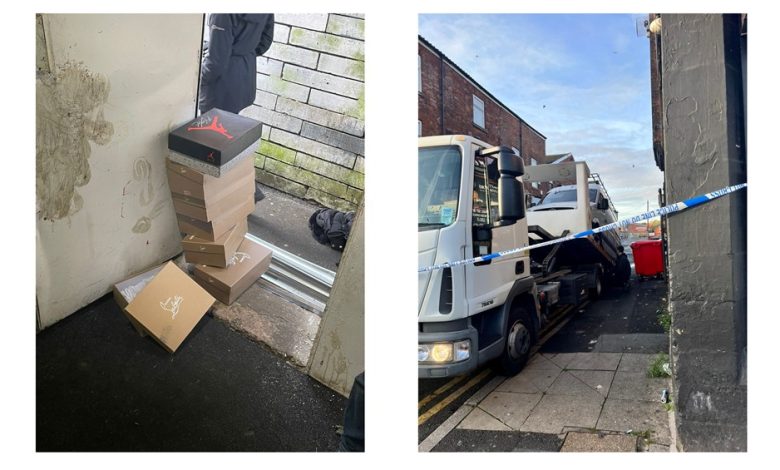 As part of GMP's new campaign Operation Vulcan, which represents GMP's commitment to tackling the harmful and endemic criminality which is often linked to counterfeit goods, officers yesterday (25 October 2022) uncovered a treasure trove of counterfeit goods and weapons.
The Operation Vulcan activity was undertaken as part of Operation Avro and yesterday morning at around 6:30am, officers were called to reports of a burglary on Lockett Street, Strangeways. In addition to an estimated 20 tonnes of replica clothing, officers recovered a van which was being used for the burglary, containing a machete and an axe.
Often unbeknownst to members of the public, these counterfeit goods are just the tip of the iceberg. Behind the shutters of these stores are hundreds and thousands of pounds worth of counterfeit clothes, medication, vapes, perfumes and drugs, all contributing to serious organised crime and money laundering in Manchester. And with that, comes violent crimes which have devastating effects on the local community and legitimate businesses in the surrounding areas.
Detective Superintendent Neil Blackwood, who is heading Operation Vulcan, said: "Today was a clear example of how these counterfeit goods are bringing serious and violent crime into the area. This property was targeted for their significant amount of counterfeit goods, and this burglary led us directly to it.
"But Operation Vulcan doesn't just stop here, we will be working closely and in innovative ways with numerous partners to tackle those criminals who are enjoying lavish lifestyles from the proceeds of their crimes at the cost of vulnerable people who are being taken advantage of. Our proactive team of specialist officers will continue to be intelligence led and work closely with local communities to stay ahead."