Stockport
One Stockport Warm and Well initiative returns for 2023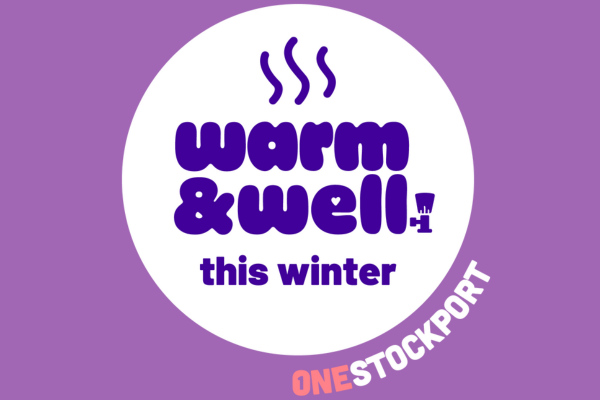 It looks to keep everyone in Stockport safe, happy and healthy over the winter months.
The initiative, which began last year, is based around three key themes: looking after yourself, looking after your home and looking after others this winter. Against the backdrop of a tough economic climate, the initiative hopes to support residents with the cost-of-living, as well as promoting tips for staying healthy during the colder months, thus reducing pressure on our health services.
All One Stockport partners are encouraged to download the toolkit from the One Stockport website and use the branding in any communications regarding the initiative.
A fundamental element of the Warm and Well initiative will be the council's warm spaces campaign, which returns from November – March of 2023/24 following its huge success last year. Funding for organisations looking to open a warm space for residents to enjoy is now available, with more information on the council newsroom.
The looking after yourself element of the Warm and Well initiative will focus on health messaging, delivered in partnership with key partners such as NHS Greater Manchester and the Stockport NHS Foundation Trust. Key messaging will include the importance of keeping up-to-date with winter vaccinations for eligible residents, as well as top tips for staying healthy in colder weather and a reminder to access health services such as GPs and 111 where necessary, particularly as we approach the Christmas Bank Holidays.
In terms of looking after your home, the focus will be on cost-of-living support, with the cost-of-living hub regularly updated and other Greater Manchester-wide and national support schemes highlighted through the Warm and Well communications.
Looking after each other will cover the vital mental health and wellbeing aspect of staying healthy, encouraging everyone to check in on friends, family and elderly relatives as the weather gets colder. One Stockport and its partners will also signpost to the Healthy Stockport website and other resources available locally to help with mental health worries, including support in a crisis.
Councillor Mark Hunter, Leader of Stockport Council, commented: "Following the success of the Warm and Well initiative last year, we are once again working alongside partners from across the borough including the health sector, businesses and voluntary, community, faith and social enterprise groups to make sure everyone in Stockport remains happy and healthy this winter. The current cost-of-living crisis coupled with winter pressures on our health services, can make this time of year challenging for many people. Here at the council, we want to ensure that we are offering wrap-around support across multiple areas to best help our residents make the most of the winter period. Thank you to all One Stockport partners who are joining us to support this initiative. By working together, we are able to provide a full range of support for everyone who lives, works and spends time in our borough."