Oldham
Oldham's Old Library Makes Strides Towards Its Former Glory
The restoration of Oldham's Old Library is advancing, with the removal of the main scaffolding structure, revealing the stunning stonework and restored roof.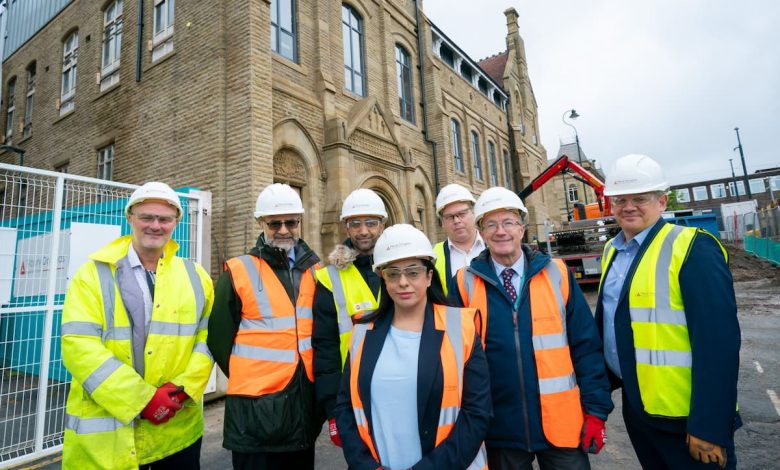 Upon completion, the Old Library will serve as a community hub with facilities for public use, a new Council Chamber, council offices, spaces for meetings, and a new home for Oldham Theatre Workshop.
The careful restoration, taking place since January last year, involves replacing the roof with original tiles and cleaning the stone to restore its former grandeur.
On Tuesday, 1st August, a significant milestone was celebrated with Oldham Council and contractors Tilbury Douglas marking the 140th anniversary of the building's official opening in 1883.
Council Leader Councillor Arooj Shah and Oldham Council Chief Executive Harry Catherall toured the building during the event and signed a steel beam within the structure.
Preserving the building's historical features has been a priority, including the relief sculptures adorning the stonework. Notable carvings feature prominent figures such as inventor Samuel Crompton, playwright William Shakespeare, poet John Milton, composer George Frideric Handel, painter Raphael, and naturalist Charles Darwin.
The iconic Lady Wrigley statue, proudly holding a wreath and a book, commemorates the resistance against Colonel Thomas Wrigley, who opposed Oldham's library and art gallery in the 1880s.
The first phase of the Old Library's restoration is nearing completion, while the second phase, involving the internal fit-out, will commence soon.
The Cultural Quarter, upon completion, will feature an extended community gallery space and the Oldham Theatre Workshop at the restored Old Library, along with a new theatre, Gallery Oldham, and Oldham Library, offering a diverse range of events, including the popular live@thelibrary program.
The ongoing regeneration program has already provided significant social value, estimated at around £3.6 million, benefiting local residents through job creation, training opportunities, volunteering, and support for local businesses. The recent achievements, such as the opening of Hilton Square, an open-air arts and events space, and the ongoing revamp of the Spindles, have further enriched the regeneration efforts in the area.