Oldham
Oldham Council's popular name a gritter competition is back!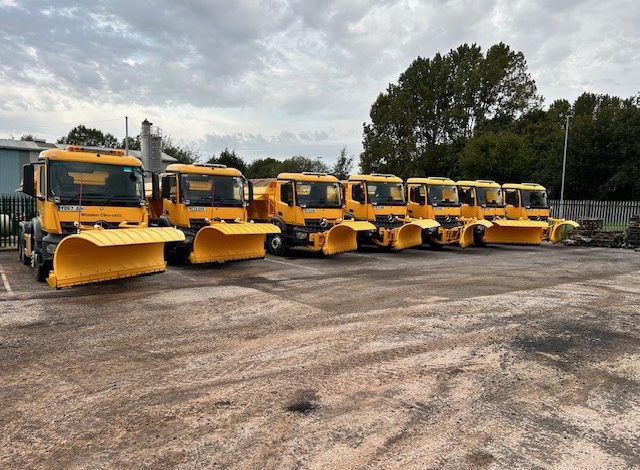 They've gritted almost a million miles between them…
But sadly, they have now reached the end of the road.
Six of our famous gritting fleet have been retired after years of super service.
Now we want you to name their replacements.
We are running a name the gritter competition for primary and junior age children and hopefully we'll receive an avalanche of entries like we have done in the past.
The winning names will be added to the front of the cabs.
And as soon as the cold weather starts, residents will be able to look out for the vehicles, including Winston Chur-chill and fan favourite Nicole Saltslinger who will be making welcome returns, as they travel around the borough spreading grit and salt.
So, to help you out if you've got brain freeze here are the names we've had in the past: Brad Grit, Gritiana Grande, Snowbee One Kenobi, Nick Gritshaw, Leonardo de-ice-io and Basil Salty.
Councillor Chris Goodwin, Cabinet Member for Neighbourhoods, said: "Oldham Council was one of the first local authorities in the country to name its gritting fleet and since then many others have followed our lead.
"In the past we've always run the competition as a bit of fun and it's really captured the imagination of our young people – one year every member of a school class entered.
"So please urge your children to get their thinking caps on and send in some names.
"This competition is for primary and junior school children so any 40 odd year old 'comics' out there who are thinking of sending in unfunny names that we've all heard before, please don't."
The competition is open to all children (4-11) who live in the borough or attend one of our junior or primary schools.
Entries must be via the webpage and you will need to include your child's details, plus how we can contact you.
Social media suggestions will not be accepted. Please see the website for all terms and conditions.
The closing date for entries is 11.59pm on Friday, November 3.
The winning entries will be chosen by a panel of councillors and council officers.
The winners will be invited down to Moorhey Street depot to have their photo taken with the gritter they have named.
Cllr Goodwin added: "Here in Oldham we're usually hit quite hard when the snow and ice begins but we have an excellent team who work tirelessly to keep the roads clear and the borough moving.
"Our gritters play a vital role in that so we can have a bit of fun running competitions like this whilst highlighting issues such winter safety."
To keep residents fully informed of any developments over winter the council website will be updated and will feature the latest news on school closures, gritting routes, locations of grit bins and grit sales.
For more information visit