Oldham
New state of the art facilities opened at North Chadderton Secondary School.
On Friday 7 July the long-awaited Library, Science block and Sports Pavilion were unveiled.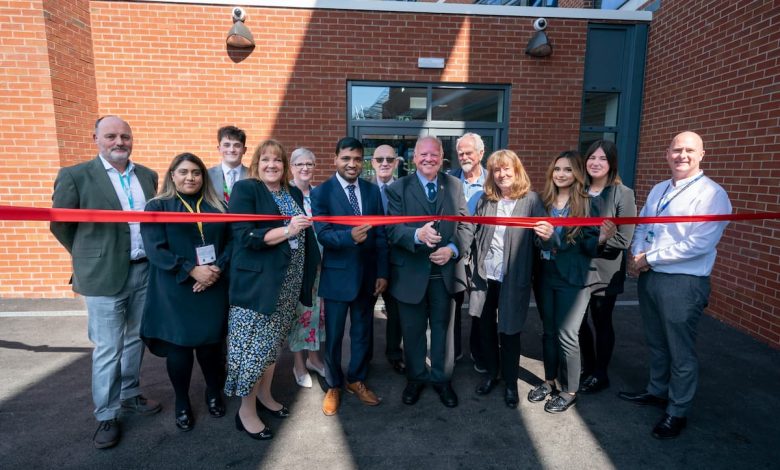 Education officials from the Oak Trust and Oldham Council officers and councillors gathered to celebrate the opening which included the new Trevor Brown Library. The opening ribbon was cut by Trevor Brown himself who retired after working for the school for over 43 years as the much-loved school Librarian.
The new facilities which comprise a bistro, library, sports pavilion and a state of the art Science block with six fully serviced specialist Science laboratories have all been designed to ensure a quality learning environment that meets the requirements of the next generation of students.
The works have been fully funded by Oldham Council who have worked successfully in close partnership with the school and the construction partner Kier.
Cllr Mohon Ali, Oldham Council Cabinet Member for Education and Skills said: "I'm thrilled to see these fantastic state of the art facilities finally opened and ready to be used by North Chadderton students.
"Children and young people in Oldham deserve the very best start in life and by investing in our schools we can help make that happen. I know that the impact of these new facilities on the outcomes for the North Chadderton Community will be felt for many years to come."
Following a tour of the new buildings, several students commented on the new additions:
Taiya Y7
I really love the new parts of our building, from the new PE changing rooms, to the new science classrooms and even to our new cute budgies in their aviary outside! These new additions to our school are not only going to help us as students to excel and be inspired, but they will also help the teachers – especially those who are science teachers! Thank you so much for our new building, as a school, we are so grateful to be able to learn and enjoy these amazing new spaces!
Eva Y12
I would just like to say thank you so much for all the time, money and hard work that has been put into the improvements for our school. Being a GCSE PE student last year we saw that there was a lack of space for both teachers and students in the old facilities. The new building has improved things not only for us as students but also for the wider community. We all really appreciate this and want to thank you for everything.
Matthew Y9
I want to begin by thanking everyone who has helped to get North Chadderton School its new buildings. Whether you were a builder on the site; a councillor; an architect: or anyone that was involved. Your work has done so much for this school. As someone who is beginning my GCSEs in September, these new facilities will be extremely beneficial. Of the 1600 people in this school, every single person is grateful for these new areas. You have done so much for this school, a new library, three-story science block and a brand-new PE building – it's safe to say that you have made this school a much better place to learn. Thank you once again, I can't wait for September.
Niamh Y8
Thank you to the council as well as the builders, who have given North Chadderton students so many opportunities through the use of the new buildings. I know personally that I will definitely use the library as a place to study or somewhere I can go to learn and develop my interests in unfamiliar topics.
Tom Y12
As an A-level Biology and Chemistry student here at North Chadderton I spend a lot of time in the science department, it's basically like my second home now. So, I know how important this development is with the addition of the new science block, as it guarantees I and other students are in labs which will make it a lot easier to do practical activities as there won't be a need for room swaps. It will make everyone's overall learning a lot better with it being less crowded and quieter.
Inayah Y7
I am really happy and thankful that we have all these different areas that have been built for our school. I think that having more science classrooms is a good idea because it gives people who don't really like science more confidence in the subject and shows them how much fun the subject can really be. I am also thankful that we have the budgies in the new aviary area because people who struggle with social spaces or in social time can go and sit in this area and the budgies will help them to feel calm and relaxed.