Bolton
Moor Lane Development Transforms Bolton Town Center through Regeneration
Moor Lane's metamorphosis is underway as the town undergoes a rejuvenating transformation.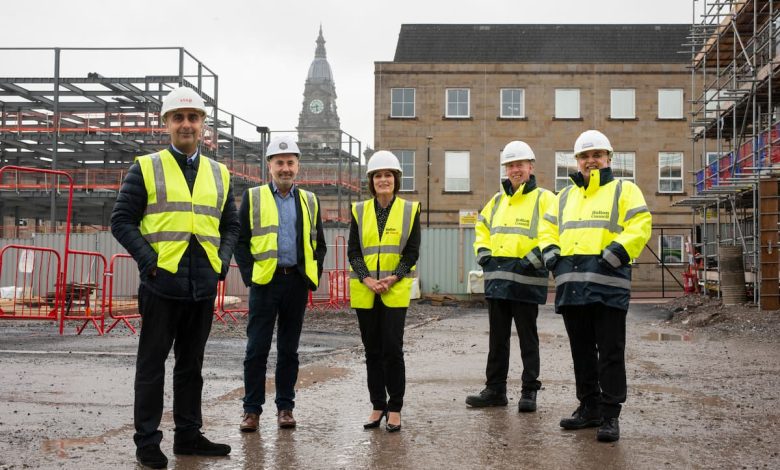 A vibrant and fresh neighbourhood is gradually emerging, providing new and affordable homes in a region of Bolton town centre that is undergoing a complete makeover.
Visitors will observe the impressive progress at the Moor Lane development, with substantial advancements in structural frames, brickwork, and other crucial construction milestones already accomplished.
Once completed, the project will boast 218 apartments and townhouses, including 82 homes available at affordable prices, alongside commercial units and verdant open spaces.
The primary development site at Moor Lane resides on brownfield land that was formerly occupied by the bus station, while two smaller plots lie on either side of the Job Centre.
Step Places is leading the delivery of this development in collaboration with social housing provider Bolton at Home and Bolton Council.
This venture is just one among several exciting projects currently underway in the Cheadle Square intervention area within the town centre.
Future residents of Moor Lane will have the convenience of being a short stroll away from the renovated Bolton Market, a modernised Central Library, a brand-new park, and the refurbished Wellspring office block, catering to new tech start-ups.
Each of these initiatives aligns with Bolton Council's broader regeneration plans, designed to draw more visitors, residents, and businesses to the town centre, thereby attracting increased private investment.
Recently, the Leader and Deputy Leader of the council paid a visit to the Moor Lane development to inspect progress, accompanied by the Managing Director of Step Places and colleagues from Bolton at Home.