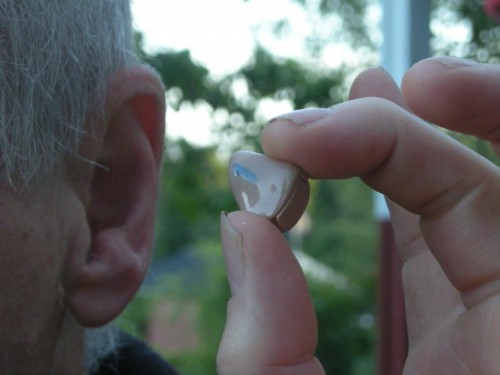 Researchers have developed the first reliable test for dementia in people with hearing loss, following an international study led by The University of Manchester scientists.
One in 11 people over the age of 65 have dementia in the UK, and more than 75% of people over 75 have hearing problems. This means hearing loss commonly occurs alongside dementia.
However, tests for dementia which assess memory, attention and language often include spoken questions that rely on hearing. People with hearing loss score worse in these tests, which could lead to a false diagnosis of dementia.
The new test developed and validated in the SENSE-Cog study could accurately diagnose dementia in people with hearing problems. It is an adapted version of a standard test – the Montreal Cognitive Assessment (MoCA) – which is commonly used to diagnose dementia and mild cognitive impairment (a condition in which a person has minor problems with their mental abilities, such as memory or thinking).
Previously, other researchers have tried removing spoken questions from this test to accommodate hearing loss. However, this approach made the test less accurate.
In this study, the research team instead replaced 3 spoken questions from the MoCA test with written ones. One question assessed attention and the other 2 questions assessed language.
The team evaluated the revised test in a study of 256 people. It was found to be accurate and reliable in people with and without hearing loss.
This is the first fully validated and reliable cognitive test for people with hearing problems and is now available for use.
Researchers say this meets an international need for a reliable test to identify cognitive impairment among people with hearing loss. The test is also being translated and validated in Arabic, Greek, German and Portuguese, and other languages will follow. The standard test is already available in more than 100 languages.
The study was led by Piers Dawes, Professor of Audiology at the University of Queensland in Australia and The University of Manchester, supported by the National Institute for Health and Care Research (NIHR) Manchester Biomedical Research Centre (BRC). It was funded by the European Union's Horizon 2020 Programme and involved researchers based across the world, including in the UK, Australia, Canada, Cyprus, France, Greece and Ireland.
As reported in NIHR Evidence, Professor Piers Dawes, co-lead for Manchester BRC's Hearing Health project investigating the prevalence of hearing loss in people with dementia, said: "To maximise quality of life and ensure people get access to appropriate help, it is vital that cognitive difficulties are reliably differentiated from hearing difficulties. For example, a person may struggle with communication and functioning in daily life. Clinicians and family members may incorrectly assume that the person's difficulties are due to dementia, when in fact they are due to treatable hearing loss.
"Conversely, cognitive impairment may contribute to a person's difficulties with communication. The hearing loss version of the MoCA test offers the potential to help differentiate cognitive from hearing difficulties."
Among the study participants, who were aged 60 years or more and recruited from 7 sites across England, Ireland and Australia:
159 people had hearing loss and took the revised test only; 83 of this group were known to have dementia.

97 people (with no hearing problems) took both the revised and the original versions of the test; 30 people in this group were known to have dementia.
The researchers found the new test was:
accurate; it identified people with dementia and hearing problems with only small differences between the adapted and original versions of the test.
reliable; 28 people (10 with normal cognition and 18 with dementia) were retested between 2 and 4 weeks after their initial test and scored similar results.
The test closely matches the standard MoCA test for identifying dementia. It asks similar questions, takes a similar length of time to complete and assesses the same cognitive areas.
People who had spent more than 12 years in education tended to score higher than those who had not. This effect is also found for the standard MoCA test. Adding 2 points to the scores of people who had spent 12 years or less in education (the adaptation made for the standard test) increased its reliability.
While the test could accurately diagnose dementia in people with hearing problems, researchers have identified areas for further investigatio
To date, this test has been assessed only in people who developed hearing problems – it may not be an effective test in people who were born with hearing loss

Another

test exists for people who use sign language

. Research is needed to develop a test for people with visual problems.
The revised MoCA test, and the standard version, can be found online.
The results of this study were published in the Journal of the American Geriatrics Society.