Local News
Manchester City Council
Manchester Leads the Way as the UK's Most Digitally Inclusive City
A nationwide survey has unveiled Manchester as the frontrunner in digital inclusivity among UK cities.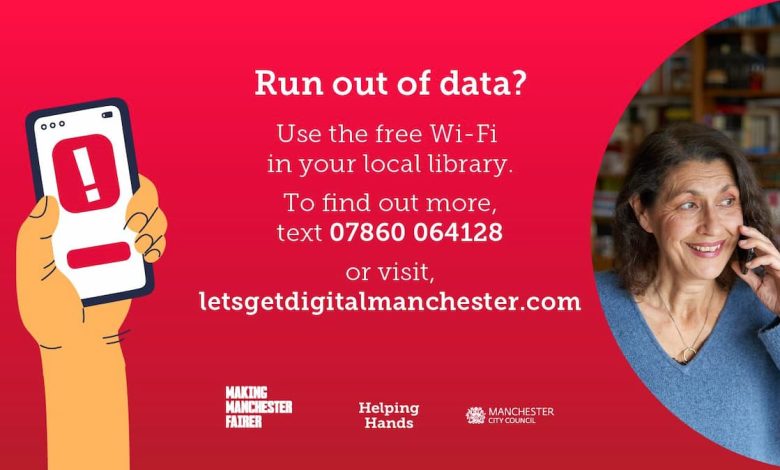 Research conducted by Uswitch mobiles delved into the prevalence of databanks, digital inclusion hubs, and digital skills workshops across the nation. The findings highlighted that Manchester boasts a substantial count of 11 digital inclusion hubs per 100,000 residents.
This recognition is a source of immense pride for the Council, reflecting the dedicated efforts undertaken in recent months to establish a comprehensive strategy combating challenges like digital exclusion, intergenerational poverty, and health disparities.
Since 2020, the Council has established a dedicated digital inclusion team within the Libraries Service. The 'Let's Get Digital' campaign has already assisted over 6,000 Manchester inhabitants in acquiring laptops, affordable broadband access, and bolstering their digital proficiency.
In a recent development, all Manchester libraries have been transformed into databank centres, facilitating individuals facing financial constraints to request donated SIM cards for mobile data. Over 1,000 individuals have already benefited from this initiative.
Furthermore, the team functions as a consulting body for organizations aiming to integrate digital inclusion into their services and become digital inclusion hubs. Currently, the team collaborates with over 50 entities, including Age UK Manchester, the Booth Centre, and Rainbow Surprise.
Earlier this year, Manchester City Council participated in the House of Lords inquiry on digital exclusion and the cost of living. The inquiry's report, released last month, stressed the necessity for the government to devise a new digital inclusion strategy and establish a cross-government unit with direct input from Number 10.
In tandem with bolstering on-site community-based efforts, one of the report's recommendations emphasizes prompt and decisive actions to eliminate barriers to internet access.
Recent collaborative efforts with JCDecaux have led to the deployment of free and secure public Wi-Fi across 22 city centre smart screens. Since its launch in May, over 26,000 users have availed themselves of the service, marking a 27% increase in users from June to July.
Concurrently, the Council introduced the "Making Manchester Fairer" initiative, a comprehensive five-year plan aiming to tackle the root causes of social and health inequalities that contribute to premature mortality. Bridging the digital divide to ensure that all members of the community have access to the advantages and opportunities presented by the internet and digital technology stands as one of the many critical challenges for achieving social and health equity.
In its pursuit of equity, the Council has taken significant strides, including collaboration in the formulation of a new anti-poverty strategy, which draws upon a diverse array of local and national expertise to combat poverty and its underlying factors.