Stockport
La Boca to La Stocka paints Stockport as Town of Culture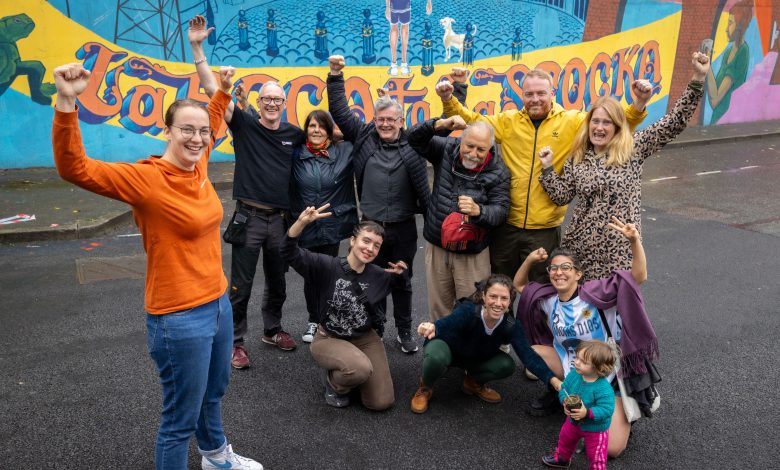 …five eminent street artists from one of Argentina's toughest neighbourhoods, La Boca, worked together with local volunteers and businesses to transform an uninspiring retaining wall into a beautiful, vibrant mural to help brighten up the surroundings.
In their home city Buenos Aires – the artists Eva Luna Maissa, Patrica Salatino, Melina Lluvia, Omar Gasparini and Alejandro Fenochio – helped turn La Boca from a crumbling, crime ridden neighbourhood into a vibrant hotspot and one of Argentina's coolest, must-see tourist attractions.
Stockport Council has facilitated the project by giving permission for the wall to be painted and supported a successful funding bid to Arts Council England.
Between Sunday 3 and Tuesday 12 September, the artists worked collaboratively with 12 local artists and 100 residents to transform the uninspiring urban backdrops around Canal Street and Lower Hopes Carr into a place that the community can be proud of and where people want to come and see.
They have been living at and working in the area at the invitation of Stockport-based Community Interest Company GRIT Studios and Art Battle Manchester, run by John and Sophie MacCauley. The project was the brainchild of the husband-and-wife duo who made the project happen after friend was visiting La Boca and told local artists about the community work happening at GRIT Studios in Stockport. They could see lots of parallels with the work they had done over decades in La Boca.
The mural features images from La Boca and some of Stockport's local landmarks, history and culture including Stockport County and Stockport viaduct.
On Tuesday, 12 September, the artists, organisers and volunteers enjoyed a street party to celebrate the completion of the project.
Artist Patricia said: "The people of Stockport are just lovely and welcoming. They've made us feel at home and it's great that they've trusted us with the mural design."
The finished wall was unveiled to Councillor Frankie Singleton, Cabinet Member for Communities, Culture & Sport, who said: "This is a fantastic example of how ordinary people from all walks of life can come together to help transform their area into somewhere they can be proud of through the power of art and how we as a council can support them. The mural looks absolutely incredible, vibrant and really brightens up a previously drab grey wall, so will be a real asset to Stockport's urban environment."
Mr MacCauley said: "By bringing together people who have a lot in common, even though they live half a world away, we've managed to transform one of Stockport's forgotten backwaters from a nowhere place into a somewhere place. It's now somewhere the community can be proud of and where people want to come and see."
La Boca to La Stocka project came to fruition as Stockport celebrates being the current Greater Manchester Town of Culture. The Town of Culture programme continues at pace into September, with events having already taken place such as the Tour of Britain and the return of the popular Art Battle Manchester to Stockport. Projects kicking off in October include the Hatting Walk on 8 October, Stockport Symphony Orchestra performing Rhapsody in Blue on 14 October.
To find out more about Stockport as this year's Greater Manchester Town of Culture, visit the dedicated website.