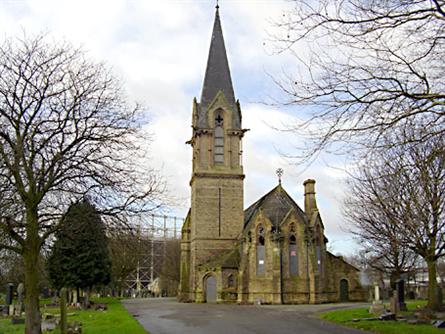 The Memorial Awareness Board (MAB) has been promoting and organising the Cemetery of the Year Awards for nearly 20 years.
Gorton and Philips Park won the 2023/24 Gold prize in the Large Burial Ground category of the National Competition and received the award last month.
The industry award follows the recent success of four cemeteries: Blackley, Gorton, Philips Park, and Southern Cemeteries, which received the Keep Britain Tidy, Green Flag Award given to public spaces that have attained a high standard of accessible green space.
Philip Potts of the Memorial Awareness Board said;
"The awards are an excellent opportunity to reward hard-working staff and demonstrate the central role Cemeteries can play in the community. They provide places of peaceful contemplation and beauty as well as their ecological importance.
"The teams at Gorton and Philips Park performed exceptionally throughout the extensive judging period which is focused on Industry Standards, Environmental Issues and Good Practice"
Councillor Lee-Ann Igbon, Executive Member for Vibrant Neighbourhoods said:
"This award is a wonderful acknowledgement for our cemeteries team, which recognises that our staff really do go above and beyond to provide a reliable, friendly, and quality service for our residents. They truly deserve this award, and I am thrilled for the whole team that they have received this national accolade. They should be immensely proud."
The Cemetery of the Year Awards are supported and endorsed by the following leading industry Associations: – Memorial Awareness Board (MAB,) Institute of Cemetery and Crematorium Management (ICCM), The Federation of Burial and Cremation Authorities (FBCA), The Society of Local Council Clerks (SLCC), British Register of Accredited Memorial Masons (BRAMM).