Rochdale
Hampton by Hilton Hotel opens in Rochdale town centre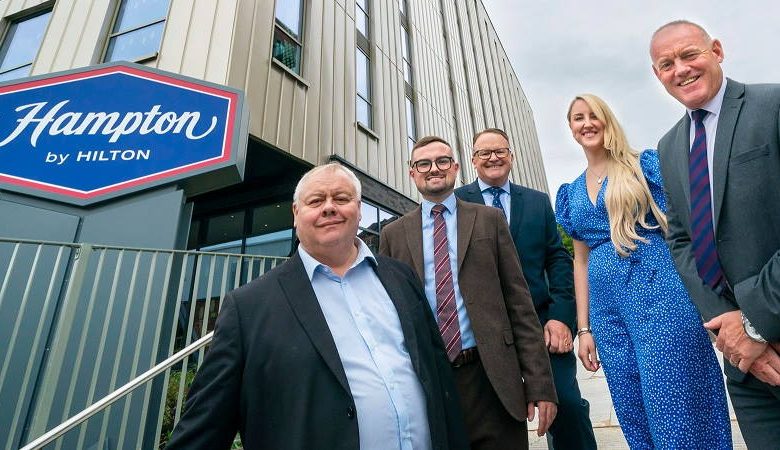 Located next to the Rochdale Riverside shopping and leisure development, the hotel features a state-of-the-art fitness centre, complete with Peloton bikes, and a food and drinks offering, which will be housed in the stylish lobby area.
The hotel contains bright, modern guestrooms, high speed wifi and the brand's signature complimentary hot breakfast.
The new opening is the global brand's first offering in Rochdale, and it will be operated by one of the UK's leading hotel management companies, Legacy Hotels and Resorts.
Councillor Danny Meredith, cabinet member for housing and regeneration at Rochdale Borough Council, said:
"Bringing a huge global name like Hampton by Hilton to Rochdale for the first time is another major step forward in our ongoing regeneration programme and demonstrates the level of high-quality development that is being created here. The hotel looks incredible and it's a really strong addition to Rochdale's rapidly changing town centre."
The new hotel is part of the £65 million Upperbanks development, which is being delivered by Rochdale Development Agency (RDA) on behalf of Rochdale Borough Council. The scheme also includes 242 new high-quality rental apartments, all with balconies, alongside communal gardens, and seating areas.
Constructed by Willmott Dixon, the scheme has engaged more than 1,300 young people in Rochdale borough and created 390 weeks of apprenticeships. In total, 50 per cent of the project spend was invested with businesses based within 20 miles of the site.
The Upperbanks development has transformed a former brownfield site as part of the wider regeneration of Rochdale town centre, which includes the re-opening of the River Roch, the opening of the Rochdale Riverside retail and leisure development and the restoration of Grade I-listed Rochdale Town Hall, which will reopen in early 2024.
Graham Dodd, Managing Director Hilton Development UK and Ireland said:
"Regeneration-led town centres, like Rochdale, which have benefited from large scale investment, are prime sites for the Hampton by Hilton brand as it continues its expansion. The proximity of the hotel to the brand-new retail and leisure development, and the wider town centre, will be a real draw for guests and we look forward to welcoming them to this fantastic new property."
Andy Townsend, Chief Executive Officer at Legacy Hotels and Resorts said:
"We're delighted to have opened the doors in Rochdale today to our third Hampton by Hilton Hotel in the UK. There's a real market for a new high-quality hotel to complement the wider hospitality offering in the borough and create more choice and variety for people looking to stay in the area. We have an exceptional team in place, many of whom are Rochdale residents, and they will be led by general manager, Ashleigh Thompson, who herself hails from Littleborough."
Upperbanks has attracted more than £20 million of external funding, including more than £17 million from the government's Future High Streets Fund and over £3 million from the GMCA's (Greater Manchester Combined Authority) Brownfield Development Fund.