Police
GMP's Journey To Improvement: Responding To The Public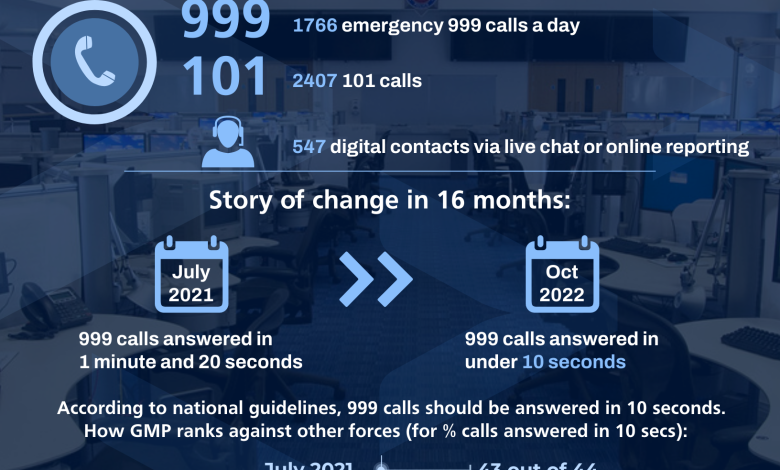 Greater Manchester Police is committed to delivering the highest level of service and getting the best outcome for victims of crime.
The force recognises that recent years have brought to the fore that more needs to be done to address the experience of victims. In scrutinising the work carried out within the organisation, GMP has identified opportunities for change and made great strides this year – particularly within the Force Contact Centre (FCC).
For victims of crime and people in crisis, their first point of contact with GMP is often the FCC. The instruction, advice and reassurance that GMP call handlers give in this moment can be lifesaving. Demand is constant and everyday GMP call handlers take an average of 1766 emergency 999 calls, 2407 101 calls and 547 digital contacts via live chat and online reporting.
In June 2021, it was found that GMP was not responding appropriately to victims of crime and during the peak summer period of 2021, 999 callers were waiting for up to one minute and 22 seconds for an answer and as a result placed 43 out of 43 forces in the national league table.
The picture today looks very different. The FCC is now in the top 10 of Force Performance and has placed 8th nationally for percentage calls answered in under 10 seconds.
This performance is the best of any large metropolitan force in the country.
A new incident response policy was also introduced, which has allowed for better prioritisation of calls and co-ordinating of response – which translates into getting faster responses to the people who need it most.
GMP reports improved response times since this policy was introduced. In September 2022, emergency 999 attendance averaged 10 minutes 19 seconds, which is down from 13 minutes 35 seconds in September 2021, and within the 15-minute national target.
Similarly, the force has looked for new and innovative ways to improve its response to non-emergency 101 calls. Today it is trailblazing live chat and online reporting functions to the extent that its digital contact is regarded as best practice by the National Digital Policing Team.
The live chat function is also unique to other forces and can be used as a discreet method of reporting 999 type incidents where making a call may have put the victim in danger.
Chief Superintendent Chris Gibson said: "The progress we have seen is the result of continued effort from across the entire force and I think we should feel proud for what we have achieved to date.
"There has been a complete cultural shift and I would like to thank the staff for their hard work and support – without which this transformation would not have been possible.
"There is undoubtedly further progress to be made and our communities can expect to see more changes and improved service from the FCC – and GMP more widely – in the near future."