Stockport
Get inspired, creative and active at Stockport Arts and Health Week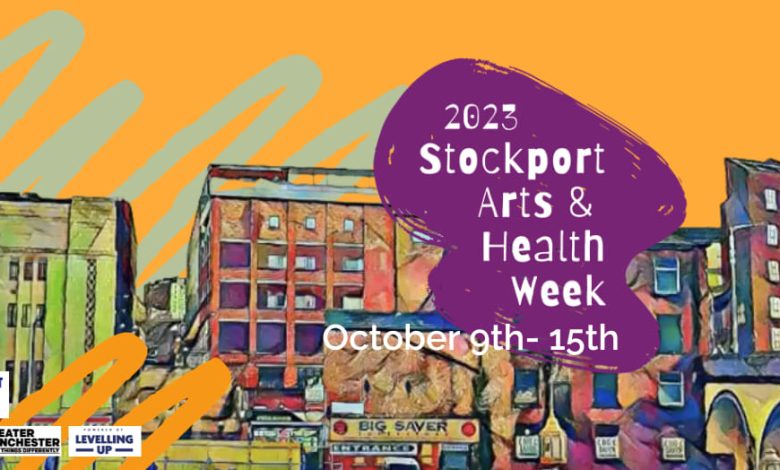 Now in its third year, the week-long programme is led by Arts for Recovery in the Community, known as Arc. Arc is a leading arts and mental health charity based in Stockport that provides opportunities for people to celebrate their creativity, connect with each other and learn new skills. Arc has more than 25 years' experience and they operate from Stockport's iconic Hat Works.
All events are free and open to the public and will see a series of workshops and events taking place at venues across the borough. The week will highlight the benefits of creativity and will include creative workshops, community showcases, performances, exhibitions, training and networking, all designed to make you feel good and boost your health and well-being.
The project was made possible thanks to £20,000 part funding from the UK Government through the UK Shared Prosperity Fund to programme, resource and staff an intensive week of events, offer funding to local artists and community groups, and to develop a legacy programme of training, volunteering and exhibitions with an arts and health theme as part of the Council's Town of Culture year.
Cllr Frankie Singleton, Cabinet Member for Communities Culture and Sport at Stockport Council, said: "Our Town of Culture year is going from strength to strength and it's fantastic to see so many of our valued community groups like Arc, right at the heart of it. This is a great opportunity for people to try something different whatever their ability and to give them that feel good factor.
"We have lots of exciting Town of Culture announcements coming soon which I look forward to sharing. Watch this space!"
Jacqui Wood, CEO at Arc "For anyone who just wants to feel a bit better or those who can't usually commit to a longer arts programme, haven't done any art since school or think they need to be "arty" or "good at drawing" to benefit from creativity, this is a great way to try something new."
"It's great that Arts and Health Week is part of 2023 Stockport's Town of Culture programme – there's such a buzz about culture in the Borough, that hopefully we will reach more people, inspiring all ages to be creative, connected and mentally well."
Stockport was announced as Greater Manchester Town of Culture in May 2023. Since then, there has been a diverse range of projects and events taking place across the borough, supporting the four key pillars of the Town of Culture programme: Stockport Moves, Makes, Sounds and Tastes.
The Town of Culture programme has proved to be a great success with residents and visitors, with events such as the Tour of Britain, the return of the popular Art Battle Manchester to Stockport, and the La Boca to La Stocka projects all drawing the crowds.
For more information visit the Arc website.
All activities can be booked via Eventbrite.