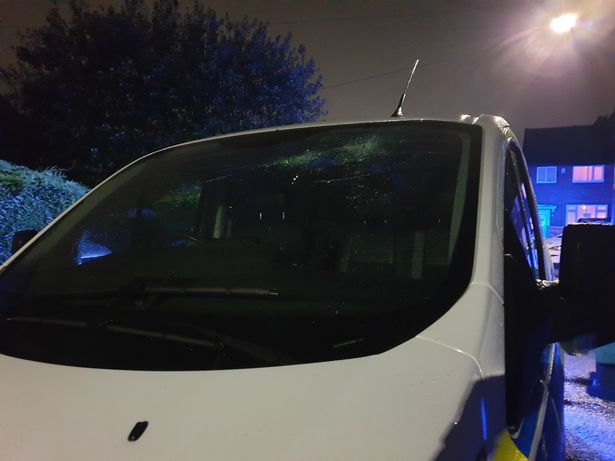 Four people were arrested, and two police cars were damaged after the 'shameful' gazebo party where 50 people broke the lockdown rules.
Police officers busted at a house in Farnworth, Bolton, at the evening hours last night.
There was a large gathering with loudspeakers, music equipment and party lights at the house.
A man who attended the party made an attempt to escape after the police officers arrived at the house on Crummock Grove, and then he threw something at the window of a police car, and a wing mirror of other police car were damaged because of the thing.
The suspicion, 33-year-old, was caught by the officers, but they fired a Taser before being busted. Besides, another man, 57-year-old, was arrested on suspicion of a public order offence.
Another two-man, 28 and 39-year-old, were arrested because of creating social unrest, Greater Manchester Police said.
They were told to leave from the crime scene, but they returned again and again.
Besides, four men were arrested on suspicion of violating the rules of coronavirus.
Anyone who plans to attend or already attended such events may be fined £100
In addition to that, the government has announced that anyone who attended to illegal raves, unlicensed music events or other gatherings with more than 30 people will be able to be fined £10,000.
Steph Parker, Chief Inspector of GMP's Bolton District, said: "This is an utterly shameful incident that the Farnworth and wider Bolton community should totally condemn.
"At a time when the vast majority of Greater Manchester and the country as a whole is pulling together, it is appalling that our officers are still having to attend incidents such as this.
"The people involved should be thoroughly ashamed of themselves. They are literally putting lives at risk and causing further pressure on our hard working emergency services.
"Not content with their disgraceful behaviour, they have also damaged two police vehicles. These will now have to be taken off the road for a period when they should be being used to help fight crime.
"Anyone who believes that breaches of COVID-19 regulations are taking place should contact police immediately."