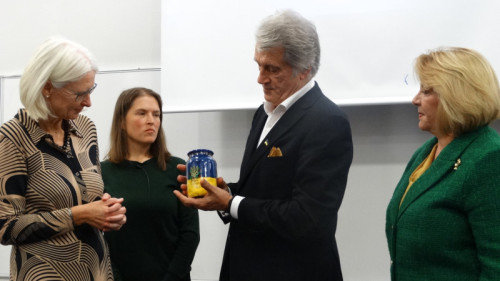 The Former Ukrainian President Viktor Yushchenko and his wife Katherine have visited The University of Manchester to speak to students about the war in his country, after attending events in Ireland to mark 25 years of the Good Friday Agreement.
Mr Yushchenko was the third President of Ukraine, and held the position between 2005-2010. As well as fighting corruption during his presidency, he aimed to orient his country towards the West, the European Union and NATO – as a result he was targeted by an assassination attempt through dioxin poisoning, which made him seriously ill and left his face disfigured.
His wife, former First Lady Katherine Yushchenko, is a former US State Department official who worked in the White House during the administration of Ronald Reagan.
Mr Yushchenko delivered a unique and thought-provoking guest lecture around the theme of 'citizen democratic duty', during which he talked about independence, war, rebuilding and integration. Many of our Undergraduate Politics and International Relations students attended the lecture, as well as our current Ukrainian students.
The visit concluded with a trip to The John Rylands Research Institute and Library, which was significant given the fact the library holds the archives of Malcolm Muggridge. Malcolm was a writer for the Manchester Guardian who was one of the few foreign journalists to write about the Holodomor Famine Genocide, when millions of Ukrainians died through forced starvation in 1932 and 1933. Mr Yushchenko made commemoration and recognition of this atrocity one of his key policies during his presidency.
"I appreciated the opportunity to visit The University of Manchester to talk with students and faculty about the war in Ukraine and our centuries-long struggle for independence from Moscow," said Mr Yushchenko.
Mr Yushchenko added: "We enjoyed our tour of John Rylands Library, which is stunningly beautiful and holds so many unique treasures. Oh, and as an avid beekeeper, I was thrilled to see that the symbol of your wonderful and historic city of Manchester is the brilliant and hard-working bee!"
"It was a great honour for The University of Manchester to host President Yushchenko and the First Lady for the lecture and visit," said Professor Fiona Devine, Vice-President and Dean of Humanities, who was the senior host for the visit. "The Manchester region has strong links with Ukraine, and the University is also home to a growing number of Ukrainian students who were delighted to be able to meet President Yushchenko personally. The University looks forward to continuing its support for our students."
The visit was enabled by The University of Manchester's Professor of Comparative and Ukrainian Politics Olga Onuch, who knows the Yushchenkos personally.