Trafford
First resort in Manchester- Therme Manchester
The photos of Therme Manchester resort look impressive.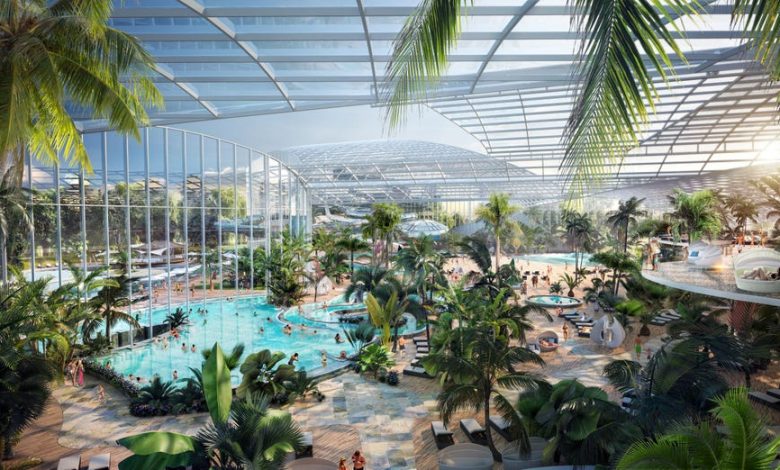 New photos of the new health resort in the Trafford Centre have been released, and the photos look impressive.
The cost of the Therme Manchester resort is £250m. There will be pools, a wave pool, water slide and rest areas. In addition to these facilities, swim-up bars, botanical gardens, healing water pool will be taken place in the Therme Manchester resort.
People will be able to use spa facilities involving steam rooös and saunas.
The resort will offer a daily programme for water-based fitnesses like pilates and yoga.
The work for Therme Manchester is planned to begin to work on the site until 2023 opening. Even though, coronavirus epidemic is ongoing increasingly.
The planning permission for the enormous spa and water park was approved in March.
The first purpose of creating the Therme Manchester resort is that people can reach art, entertainments, nature and technology all in the same breath.
Manchester will be home the first UK resort by the Therme Manchester. On the other side, the resort has several sites in Europe with Germany and Romania.
The most popular and hosting the most visitors in European is its Bucharest resort. It has been serving since 2016, and 1.3 million visitors have preferred every year.
According to them, visitors will breathe the freshest air thanks to cutting-edge air filtration systems. In addition to air, the cleanest pool will be offered for visitors.
The new resort is exciting for people who live in Manchester because most people have stayed at their home since the beginning of the coronavirus epidemic.
Nowadays, The Therme Group has already started works for some resorts in other parts of the United Kingdom, such as Wales, Scotland and London. Also, the reports will be taken place in North America and the Asia-Pacific.
The Therme report isn't only entertainment venue; there will be 3000 work for people looking for a job.
Chief Development Officer in Therme Group Richard Land of Therme said: "Therme Group is based on a belief that wellbeing should be accessible for all.
"The events of 2020 have shone a light on the necessity of this mission, especially for those in cities.
"Therme Manchester will redefine city wellbeing, enhancing mental and physical health through an experience-based in water and nature.
"Therme Manchester will offer a unique holiday at home, that acts as a catalyst for healthy lifestyles."