Tameside
Fines issued following day of action against flytipping in Ashton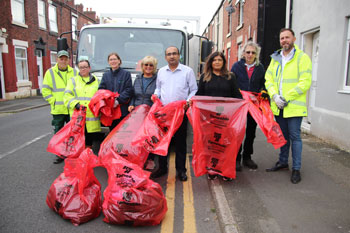 SEVEN fixed penalty notice fines are to be issued following a day of action to tackle flytipping and litter in hotspot areas of Ashton.
Tameside Council officers were joined by ward members in the Waterloo ward of Ashton for the clean up, which covered the Minto Street, Latchford Street, Bradbury Street, Elgin Street, Cranbrook Street, Oldham Road areas on Wednesday 27 September.
The day of action – which is art of the council's wider Our Streets campaign to work with the community to make local neighbourhoods cleaner, greener and safer –  included the clearance of abandoned and contaminated bins and the searching for evidence of the offenders responsible for dumped waste.
Seven fixed penalty notices will be issued following investigations and, where fines are not paid, the council will seek to prosecute the offenders in court.
Officers will also be contacting residents in affected areas to remind them of their responsibilities to keep alleyways free from waste and offer them the opportunity to work with the council to tackle the issue by  taking part in community clean ups.
Tameside Council Executive Member Cllr Denise Ward, who is responsible for environmental services and who also took part in the clean up, said: "This is a yet another great result from an Our Streets day of action. There is no excuse for fly-tipping and littering – it is totally unacceptable and disrespectful to the local community and environment.
"We have teams out every day investigating and clearing dumped waste and we'll always take action against offenders where we have the evidence to do so. The council has issued 103 Fixed Penalty Notices so far this year in relation to flytipping, littering and waste offences and there have been three successful prosecutions.
"With regards to waste left in alleyways – it is the responsibility of residents who have access to the alleyway/passageway to maintain them and keep them clear of refuse however we recognise that not all the residents are responsible for the fly-tipping and many of them take pride in their local area and we will be giving them the opportunity to work with us on further community clean up days."