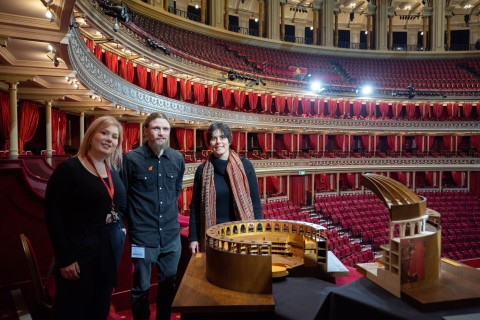 A model of the Royal Albert Hall produced by The University of Manchester's modelmaking workshop B.15 has been added to the Hall's new £1m Archive Collection as the result of a collaboration with the Victoria and Albert Museum Research Institute.
The 3/4 replica of an original 19th Century building model was made by B.15 Workshop Technical Manager Scott Miller and assistant Saul-Parker Backhouse, alongside Manchester School of Architecture students Ruben Greyson and Cezara Mișca, and plays a key role in explaining the design process behind one of the UK's most iconic buildings.
Following the discovery of fragments of the original model in a staircase cupboard in the hall in 2018, Dr. Simona Valeriani from the V&A Research Institute, and Royal Albert Hall archivist Liz Harper worked closely with B.15 to realise what the original must have looked like.
Efforts were made to restore the badly damaged artefact, and a replica of the fragment was produced including missing pieces to illustrate part of what might have been, recreating a long-lost stage of Royal Albert Hall architectural history.
The replica then featured in the Building Centre Exhibition; Shaping Space – Architectural Models Revealed.
Following the conclusion of Shaping Space, an agreement between the Hall and B.15 led to the model being donated to their collection. The first dedicated archive to the Hall's 150-year history officially opened on Thursday 12 October, and can be searched online at Future plans for the model will see it displayed to the public in one of the Hall's main entrances.
A documentary short 'The Making of the Royal Albert Hall Models' was produced alongside the project by Chris Jackson, and features narration from Dr Simona Valeriani and B.15 Technical Manager Scott Miller.