Stockport
Exciting Progress Update on Marple's Vibrant Community Hub – July 2023
Building upon the exciting news of successfully securing a substantial £20 million in Capital Levelling Up funding for the Marple Active Communities Hub, we are delighted to provide residents with the latest updates on this transformative project.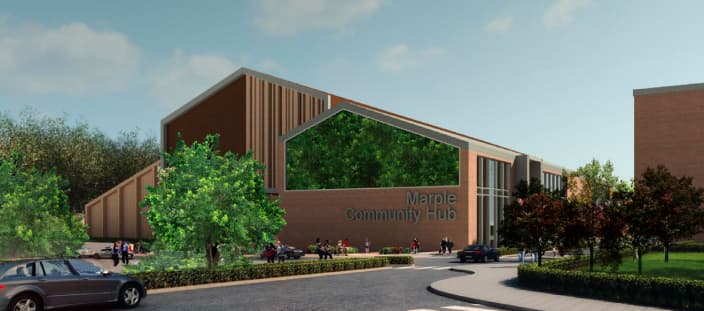 With unwavering determination, the Council is swiftly advancing towards the realization of the eagerly awaited new facilities. Currently, the Council is diligently assembling a team of professionals to propel the detailed design phase of the project.
In the coming months, the Council will embark on an engagement process to gather input for an upcoming planning application. This process will encompass not only the final design of the captivating Leisure and Community Hub itself, but also enhancements to walking paths, cycling infrastructure, and highways, all of which were included in the funding proposal.
Furthermore, extensive engagement efforts will be dedicated to broader improvements in Marple's highways network. Valuable feedback from the community will shape future funding applications, building upon previous engagement activities. The Council seeks to honor and expand upon the input of residents, stakeholders, and partners, ensuring their continued influence on the project.
Winter 2023 is earmarked for the submission of the planning application, paving the way for construction to commence in the summer of 2024. Anticipate the grand opening of the new facility in the enchanting winter of 2025.
Exciting plans are also in place for the demolition of the former pool building. The timeline for this endeavor is currently being developed and will be shared with residents in due course. The demolition project will undergo a separate planning approval process.
Furthermore, preparations are underway to relocate the existing library to a temporary facility before the main construction work begins. Stay tuned for future announcements regarding the timing of this relocation, intricately tied to the construction schedule of the remarkable hub. Rest assured, alternative library services will be provided to Marple residents throughout the construction period.
Recognizing the curiosity and inquiries of local organizations and residents, the Council acknowledges that immediate answers may not be possible. To address these concerns effectively, an email address has been established to gather local questions and queries. Rest assured, timely responses and project updates will be provided to keep the community well-informed.