Stockport
Embark on an extraordinary journey as the Great Frogtastic Invention Trail leaps into the heart of Stockport this summer!
Rejoice, for the Stockport frogs have returned to grace the entire borough once again!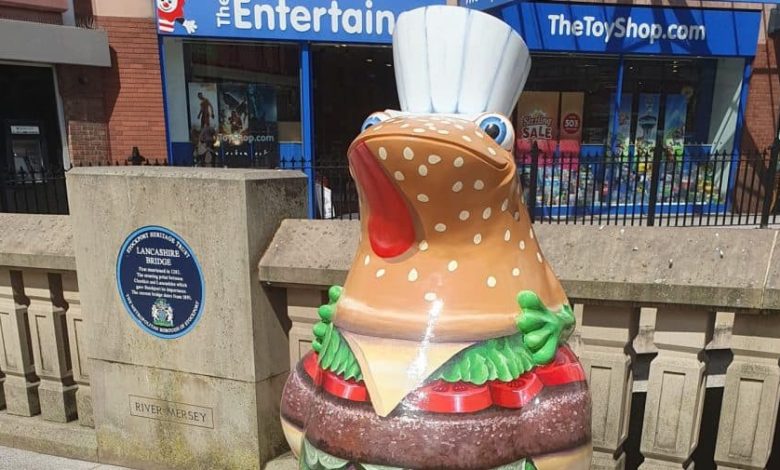 Building on the tremendous triumph of Stockport's awe-inspiring Giant Leap Frog Art Trail in 2019 and the astonishing Gigantic Leap Frog Art Trail in 2021, the Stockport Frogs have taken an audacious leap back into our midst for the summer of 2023!
With the ingenious efforts of the visionary team at Totally Stockport, the town's Business Improvement District, a captivating new trail of 'Frogtastic Invention' frogs has emerged, adorning the town center with their whimsical presence, perched upon giant cogs.
Nineteen delightful frogs, brought to life by the skillful hands of local artists, and sponsored by our very own local businesses and organizations, now stand proudly as ambassadors of various inventions. These vibrant and imaginative sculptures come together to form a marvelous, free, and enjoyable outdoor art trail for all to savor. As you journey along the trail, be prepared to encounter wonders and perhaps even learn something new!
But that's not all! A chance to win your very own exclusive frog awaits! Seek out Minty and take a guess at the number of coins adorning this splendid fellow. By entering via the website, you could claim your very own froggy prize! Look out for Zippy as well – who would have imagined that a fastener with teeth, invented way back in 1891, would become an essential household item over two centuries later?
As you continue your adventure through the town center, be astonished by the tale of how a ship's engineer inadvertently stumbled upon the invention of the Slinky. Delve into the history behind the name Alexander Graham and discover the incredible duration of the first-ever flight.
Allow your curiosity to guide you to the Great Frogtastic Invention Trail, where all 19 remarkable inventions will be unveiled, leaving you awe-inspired and brimming with knowledge.
The town of Stockport eagerly awaits the arrival of thousands of residents and visitors from all walks of life – young and old, from businesses, schools, and community groups – all joining in to unravel the secrets of these ingenious frogs and their astonishing inventions. This is a celebration of creativity, innovation, and unity that promises to be an unforgettable experience for one and all. So, let the adventure begin!