Local News
COVID-19 rate in Greater Manchester areas
The number of new cases has increased seriously, but the numbers have gone down in some parts.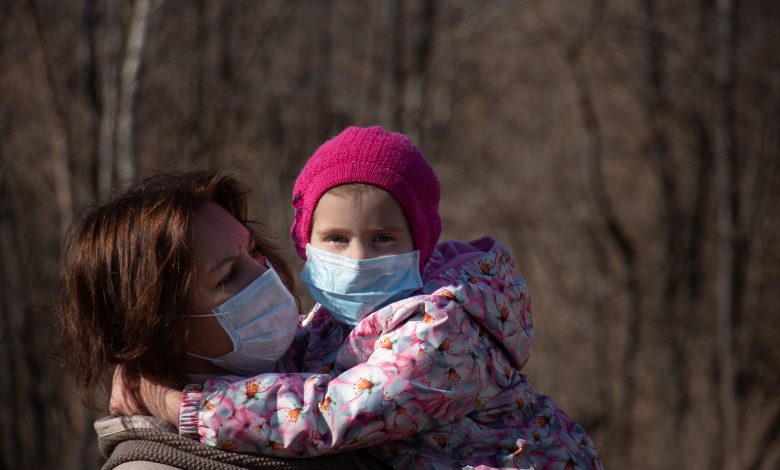 The number of COVID-19 infections has risen in Greater Manchester since local lockdown, but there is a huge difference in the spread of the virus between the regions.
On July 30, Matt Hancock announced the new restrictions on his Twitter account, and there was a clear increase in infection rates in nine of the ten boroughs across Greater Manchester at that time.
Unfortunately, in Greater Manchester, the number of people infected with the spreading virus increases, but the rate of rising is reducing.
When new restrictions started to apply in the seven days after July 31, 901 infections occurred across the regions. This number is higher than the previous week with 86 new cases but a smaller increase than the last two weeks.
According to the local authorities in Greater Manchester, a rise in cases, except Wigan, was seen on July 30, but now, reducing cases are seen.
Graphically, the number of cases in Rochdale, Tameside, Bolton, and Bury has grown upward. On the other hand, the numbers in Salford, Stockport, and Wigan are flat. The graph has been downwards with lower new cases by local lockdown in Manchester and Trafford.
The latest data for some boroughs;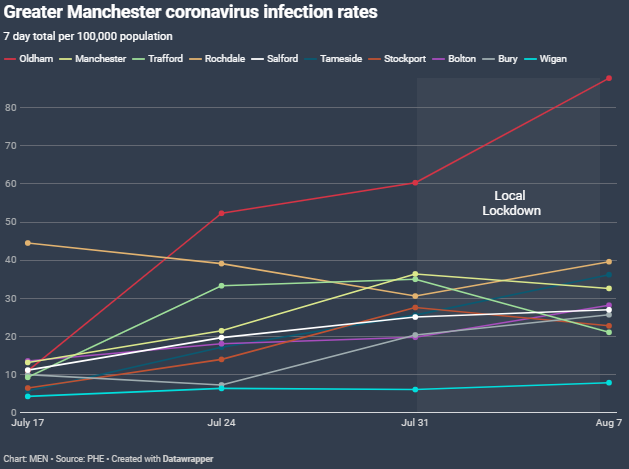 OLDHAM
The most sharply increased in the cases has been seen in Oldham, now a weekly infection rate is 87.7 per 100,000 population. After new restrictions came into force, there were 208 new cases in the region, and the number was more than the previous week with 65 positive tests.
MANCHESTER
There was an increase in the number of cases before the new restrictions come into force, but now the positive number of cases has decreased by these restrictions.
WIGAN
According to the local authorities, the Wigan has a relatively low infection rate, so the borough ought to be exempt from the restrictions. The weekly infection rate is 25 cases per 100,000 people.
TRAFFORD
The most significant reduction in the cases has been seen in Trafford in the first week of local lockdown. The infection rate has reduced from 41.7 on July 27 to 21.1 on August 7.
SALFORD
Since the local lockdown, the strongly increased cases have been seen and continued in the borough.
ROCHDALE
There is a slight increase in the borough since the local lockdown. The weekly infection rate is just under 40 per 100,000 people and well above the national average.
STOCKPORT
On 5 August, 17 cases were recorded in the borough, and following day there were 18 cases. These numbers are relatively high than the number in June and July.