Bury
Cost of Living Community Fund open for applications
Local voluntary and community groups, who are helping residents through the cost of living crisis, can apply for support through a new Cost of Living Community Fund.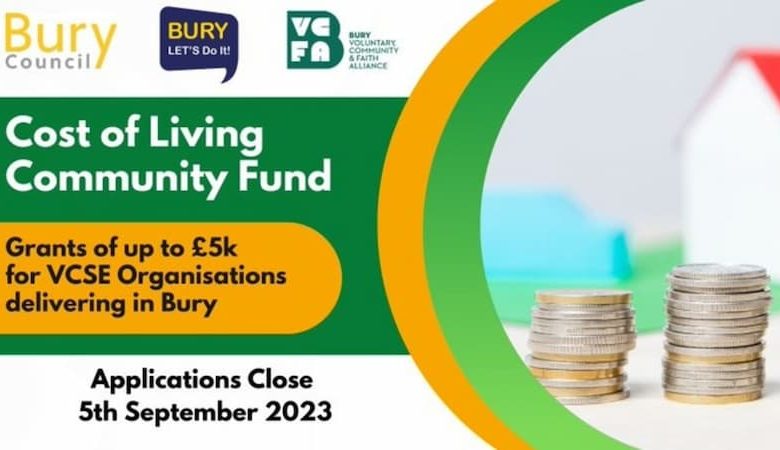 The fund is part of Bury's ongoing response to supporting our local communities with cost-of-living pressures. It supports the delivery of the borough's Cost of Living & Anti-Poverty and LET'S Do It (LETS) strategies and has been targeted towards activity to support the resilience of local voluntary and community groups in helping and enabling local residents to best manage current hardship pressures.
The funding has been made available through Bury Council and the Government's Household Support Fund. It supports activities and funding projects enabling local people to be best equipped and supported to manage in the context of current pressures and to enable the provision of projects or activities to support local neighbourhoods.
Groups can apply for up to £5,000 for collaborative projects or up to £2,000 as individual organisations, with the funding to support initiatives across the priorities including tackling food and fuel poverty; finance and debt; work and wages; digital inclusion; childhood poverty, and the impacts of poverty on wellbeing.
Councillor Richard Gold, Cabinet Member for Communities and Finance, said: "We continue to work closely with our amazing voluntary, community and faith sector to collectively address both the impacts of current cost of living pressures but also to work together to tackle the underlying causes of poverty.
"Through the partnership Anti Poverty Steering Group and cost of living summits, the importance of the role of local community organisations is hugely recognised, through which further funding is being made available to support those groups who play such a key role in supporting those who need it most in our communities."
Applications are open now with bids to be submitted by Tuesday 5 September 2023. Two meet the funder sessions are taking place in the coming weeks where groups can ask questions on the fund or seek groups to collaborate with. These are on Tuesday 25 July at noon and Thursday 10 August at 6pm. Further information on these, along with the application form and full guidance are available at: