Stockport
Come down to the Offerton inclusive Jobs Fair and Money Maximising Roadshow!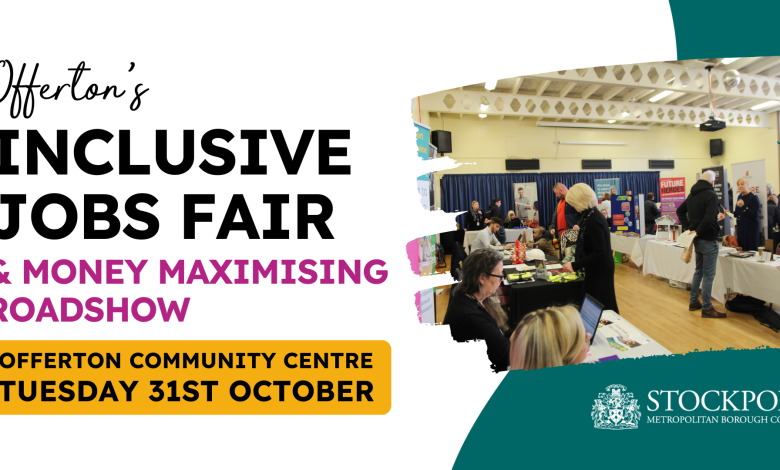 Maybe you're just starting out, or going back to work after a career break? Or just need some help managing your finances in the face of the cost-of-living crisis?
Come along to the Offerton inclusive Jobs Fair and Money Maximising Roadshow on 31st October! Hosted at Offerton Community Centre from 10am – 2pm, it's an all-round event which will help you look for work, chat about further education or training or just get a little extra support with money worries. You'll be able to chat to local employers who are hiring people like you now, whether you're looking for part time or full time roles. No experience is necessarily required, you just need a can-do attitude and a willingness to learn.
If you need help perfecting your CV, drop in to our CV writing workshops on the day to make sure you are standing out to potential employers.
Plus, the team from the Money Maximising Roadshow will be on hand to offer advice and support to help you manage your money and tackle the cost-of-living crisis. Did you know that you can claim a FREE energy efficiency assessment for your home, and potentially get energy-saving measures implemented free of charge? Chat to our advisors to find out more!
There are over 21 million people in the UK who aren't claiming the benefits they are entitled to. Visit the Money Maximising Roadshow to find out what support you can claim, and for help applying for the benefits you are entitled to.
If that wasn't enough, every attendee will enjoy a free hot drink, bacon sandwich and soup on the day! No childcare? No problem! Bring your little ones along to enjoy a child-friendly environment at Offerton library.
Councillor Colin MacAlister, Cabinet Member for Economy, Work and Skills at Stockport Council, commented: "I want to encourage as many residents as possible to come down to the Offerton jobs fair and Money Maximising Roadshow. The cost-of-living situation can impact anyone, and there is certainly no shame in asking for a little extra support. Whether you're looking for help and advice or you are considering a new job or a change of role, it's a great opportunity to chat to our friendly advisors as well as local employers about your options. It doesn't matter what stage you're at: whether you are actively looking for work or you are just curious about what is on offer, come down to Offerton Community Centre on 31st October to see for yourself!"
Free tickets can be booked via Eventbrite, or just turn up on the day.