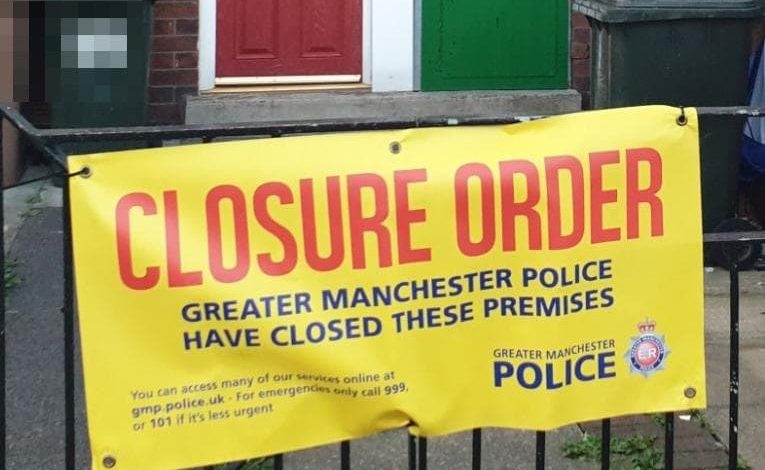 Last Friday (29 September 2023), Rochdale North Neighbourhood team have secured a closure order at a property in the Turfhill area of Rochdale which follows reports of widespread anti-social behaviour (ASB) emanating from the address.
This includes drug dealing, drug taking, fights, and people coming and going to and from the property at all times of day and night. These incidents have been occurring for a number of years and every warning giving to the occupant with a view to curtailing their behaviour has been ignored.
The closure order is issued by the Magistrates court and lasts for a period of 3 months.
Closure order rochdale.jpg
Closure order banner outside an address in Turfhill, Rochdale
Police Inspector Meena Yasin of GMP's Rochdale North neighbourhood team, said "Anti-social behaviour is often regarded as a 'lower-level' crime but the personal impact upon victims is truly immense.
"We have spoken to people unable to sleep at night and being scared to carry out everyday activities within their own homes. Anti-social behaviour really impacts on a person's ability to undertake routine everyday activities that we often take for granted. To experience fear and anxiety within your home impacts on mental and physical health and can lead to victims feeling helpless.
"A closure order is considered a really punitive power but I would ask anyone reading this to put yourself in the victim's shoes, and imagine having to live like that within your own home – each day, every day, day and night. This can often lead to under-reporting.
"A lot of work goes into pursuing a closure orders – we conduct anonymous surveys, we knock on people's doors to give them a chance to speak to us. We take witness statements and gather timelines of interventions from partner agencies. We have to take evidence to the court that lower level interventions essentially haven't worked to curtail behaviour.
"We have worked very closely with local residents and the housing association to try to proactively tackle issues of nuisance linked to this property.
"Anti-social behaviour is continually raised by our communities as being an area of concern. Our job as the police, is to listen to these concerns, to gather the evidence and to present this to the courts. We want the people we serve to feel safe and be free from criminal behaviour, nuisance and disorder in the areas they live and work.
"The ongoing actions of the occupant and those attending the property were causing significant distress to nearby neighbours and the wider community and we would like to thank those who gave us information which enabled us to build a case like this to take to court.
"We will always take action and work with our partner agencies to ensure those who engage in anti-social or nuisance behaviour are dealt with robustly.