Crime
Local News
Can you help identify these men after disorder before Manchester United vs Leeds United last season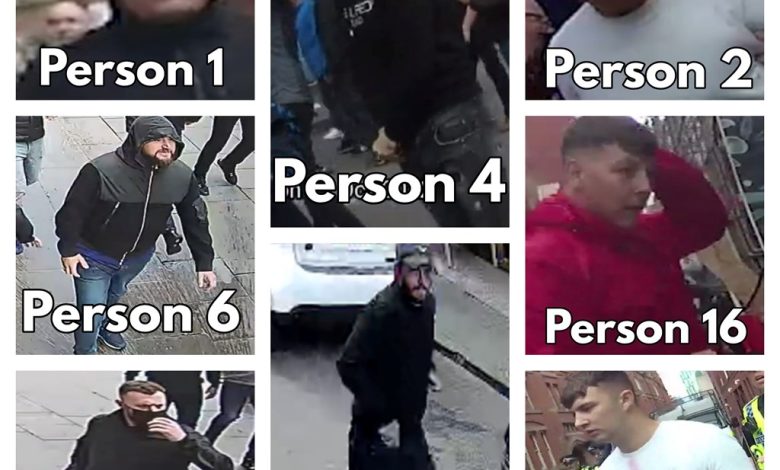 We've been investigating violent disorder before the Manchester United vs Leeds United fixture last season.
Prior to the game in August 2021, there was large-scale disorder in Manchester city centre involving supporters from both sides.
Thankfully no injuries were reported and serious damage was kept to a minimum following the response from officers patrolling nearby.
Detectives from Longsight CID have so far identified 11 suspects they will be speaking to as part of their ongoing enquiries that has included over 20 hours of CCTV and body-worn video viewed.
Today (19 October) we've released images of eight men who we're wanting to speak to in relation to the disorder, and we believe they were in the city centre on the day and may have information.
Anyone who recognises any of the men should get in touch with us via the LiveChat facility on our website – or by calling 101 – quoting incident 982 of 14/08/2021.
Investigators are also keen to see any mobile phone footage showing any of the disorder on the day – if you have any then please contact us.
We've been working with both football clubs to identify those involved, as we continue to liaise closely with all of our local teams to ensure that the thousands of fans that support them every week are safe from violence and disorder.
We're continuing to take a tough stance on such incidents at football stadiums in GM and will not tolerate any behaviour that puts the safety of other spectators – or anyone else in the ground – in danger.
Those suspected of being involved in football-related disorder risk having a banning order imposed on them by the courts that can last as long as 10 years and could involve immediate imprisonment.
In the last 12 months, 41 people have been banned from attending games after incidents involving our teams.
Our focus is always to keep the public safe to enable them to have a trouble-free time when going to watch their team play.
We are always visible at games and want to do all we can to help so if you ever have information or concerns then don't hesitate to approach us.