Bury
Bury Council Recognized with Armed Forces Gold Employer Status
Bury Council's unwavering dedication to serving and supporting current and former armed forces members, reservists, and adult cadets has gained national recognition.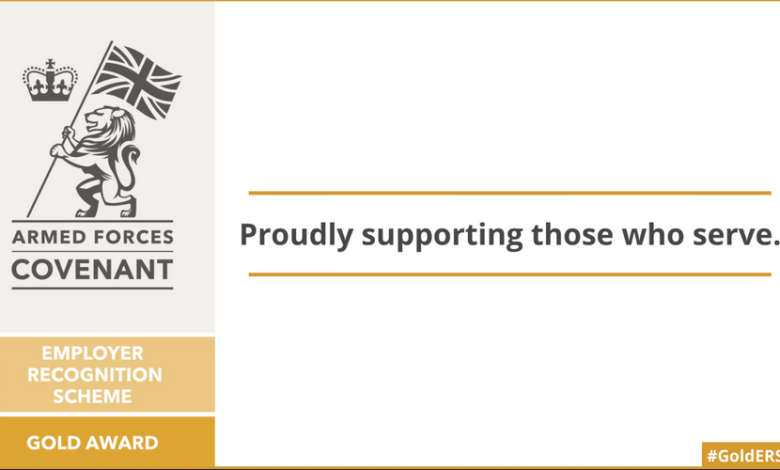 The Ministry of Defence has awarded Bury Council with the prestigious Employers Recognition Scheme (ERS) Gold status. This distinction is bestowed upon employers who demonstrate a strong commitment to defense and the armed forces community, aligning their values with the Armed Forces Covenant.
Councillor Richard Gold, the council's Armed Forces Champion and Cabinet Member for Finance and Communities, expressed the importance of supporting the armed forces community in Bury, given the town's rich military heritage as the spiritual home of the Fusiliers. He urged Bury businesses and the council's partners to take proactive measures in supporting veterans, armed forces personnel, and their families.
As a proud signatory to the Armed Forces Covenant, Bury Council offers an extensive range of support services. These encompass employment and skills opportunities, housing assistance, healthcare provisions, and overall well-being support. Detailed information can be found on the council's website under the Armed Forces Personnel section.
Additionally, Bury Council has recently launched the Veterans and Cadets Support Fund, offering funding opportunities to eligible groups. Further information can be accessed through the Veterans and Cadets Support Fund page on the council's website.
Various organizations within Bury, such as the Citizens Advice Bureau (CAB), play a vital role in ensuring that veterans and their families have access to necessary support. The CAB provides guidance on benefits and concessions tailored to armed forces veterans and their families.
Furthermore, the Fusilier Museum has unveiled a new exhibition highlighting the profound connection between the regiment and the people of Bury, inviting visitors to explore this historical bond.
Bury Council's achievement of Armed Forces Gold Employer status reinforces its commitment to honoring and supporting those who have served in the armed forces, while encouraging collaboration across the community to provide the best possible assistance to veterans and armed forces personnel.