Rochdale
Balderstone Park bags a Green Flag
The park was submitted as an additional late entry in 2023, and after a full appraisal, the park is ready to fly the flag.
Balderstone Park, which can easily be reached by foot, bus or car, boasts many facilities, including a popular skate park, free parking, and accessible play facilities for all ages and a local library. 
In March 2023, a new community space was officially opened named Million Pavilion as part of a £1 million cash injection secured for the park from section 106 planning money.
The Million Pavilion is the perfect space for the local community at Balderstone Park.
This new facility is home to the local group Kirkholt Million, who, with ward councillors Phil Massey and Daniel Meredith, helped secure funding and offers a wonderful community space for local groups.
Here, visitors will also find a cafe, accessible toilets, and changing facilities for sports clubs, which was another outstanding addition in helping to secure the flag.
The judges were impressed by the council's plans for the park, which will see new rugby pitches installed in 2024, and noted an additional external grant proposal idea by Kirkholt Million to add a pump track – both offering valuable additional sports facilities for the local community and beyond.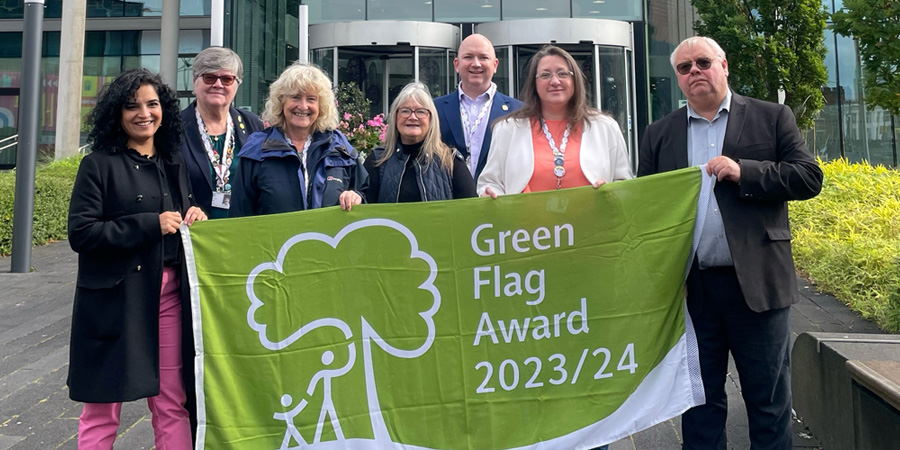 Pictured from left to right: Councillor Amber Nisa; Councillor Janet Emsley; Councillor Tricia Ayrton; Councillor June West; Councillor Phil Massey; and Councillor Neil Emmott, leader of the council, celebrating the borough's 11 Green Flag Awards.
Councillor Liam O'Rourke, cabinet member for climate change and environment, said:
"Our borough can now brag that we have 11 Green Flag spaces, which is an outstanding achievement.

"The recent updates to Balderstone Park, plus the hard work of our grounds staff and the Friends of Balderstone Park volunteers, have all played their part in pulling out all the stops to make this park one of the best in the country in addition to our other first-class facilities."
Green Flag judges added:
"Balderstone Park is a valuable asset and facility for the local community and also for visitors from outside of the borough.

"The skate park is recognised as a regional highlight facility, and the pending proposed pump track will be a valuable facility which should attract much interest.

"The progressive proposals are to be commended. Congratulations to all involved in contributing to the wellbeing and effectiveness of the park."
The Green Flag Award scheme, managed by environmental charity Keep Britain Tidy under licence from the Department for Levelling Up, Housing and Communities, recognises and rewards well-managed parks and green spaces, setting the benchmark standard for the management of green spaces across the United Kingdom and around the world.