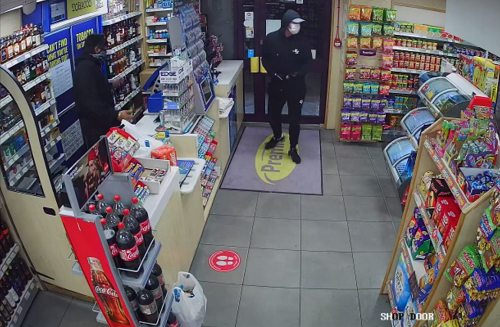 After an attempted robbery in Wigan, police have released CCTV images of a man. Police are appealing for information for the robbery.
Officers got the report of the robbery on Thursday 1 April 2021 and were called to Premier Store, Beech Hill Avenue. Enquires established that a man who had a knife threatened the victim and attempted the robbery.
Detective Constable Paul Sumner said: "The suspect entered the store, produced a large knife and said: 'Give me the money out of the till'.The victim refused and the suspect then threatened to stab customers if the victim did not hand over money. The suspect then demanded a bottle of vodka or he would stab the victim."
The suspect is described as white, about 35 years of age,6ft 1in tall, and wearing a black tracksuit with white initials on the left side of the chest and on the bottoms.
Anyone who has information should contact Wigan CID on 0161 856 7264 quoting 06LL/00084222/21.